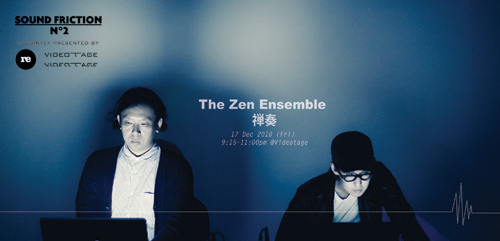 Sound Friction No.2
The Zen Ensemble


9:15pm – 11:00pm, 17 Dec, 2010
Videotage
(No. 13, Cattle Depot Artist Village, 63 Ma Tau Kok Rd. To Kwa Wan, Kowloon, HK)
Free Admission
mAtter (TOKYO)
Yukitomo Hamasaki + shotahirama (Electronics)
Go Koyashiki (Electronics)
Toshikazu Goto (Electronics) + Fumiko Ikeda (Voice)
kenhirama (Visuals)
with Alok (Electronics), KWC (Electronics), Sin:Ned (Silence)
As the second gig of the series Sound Friction, The Zen Ensemble will be the most noiseless and tranquil sound performance of this year.
Inspired by the concept of emptiness in Zen Buddhism, the dynamic Japanese multi-disciplinary group mAtter, together with selected Hong Kong sound artists, will bring us 'The Zen Ensemble' – a conceptual group that explores the composition and performance of silence.
For this special performance, a set of rules is composed to guide the artists to play 'silence' rather than making sound. In Zen Buddhism (an adaptation of Chinese Buddhism), it is said that our existence can only be found in the silence of the mind (or in fact, no-mind). The Zen Ensemble will be the first and only sound performance in Hong Kong that invites you to experience the absence of sound.
Together with stunning live visuals, this quiet sound revolution of The Zen Ensemble at Videotage is definitely a must-go for electronics and sound art lovers.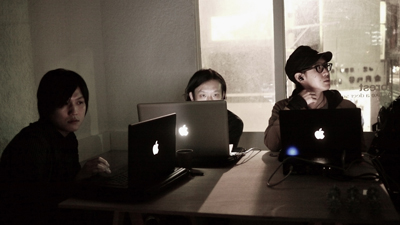 (Left to right: Go Koyashiki, Yukitomo Hamasaki, shotahirama)
About mAtter (www.matter.jp)
mAtter is a sound & design project, with works centering around Yukitomo Hamasaki. The label takes approaches from various media such as sound design, architecture, and product design, in which the members interpret and restructures these concepts in different ways based on their own perspection, and try to achieve the goal of constructing dense space. The members of mAtter are not fixed, they collaborate depend on the projects. Its members consist of musicians, architects, video artists, and writers.
Current mAtter members include:
Yukitomo Hamasaki (www.myspace.com/nothingsclear/)
Go Koyashiki (www.myspace.com/gokoyashiki/)
Junji Koyanagi (www.celescape.org/koyanagi/)
shotahirama (www.signaldada.com)
For reservation and enquiry
Tel: 2573-1869 (Kami Liu)
Email: info@videotage.org.hk


Sound Friction is a performance series jointly organized by Re-Records and Videotage.
Taking sonic art as the anchor point, the aim of Sound Friction is to develop a creative performance platform for cross-cultural, cross-media, cross-disciplinary and cross-genres collaboration between artists.