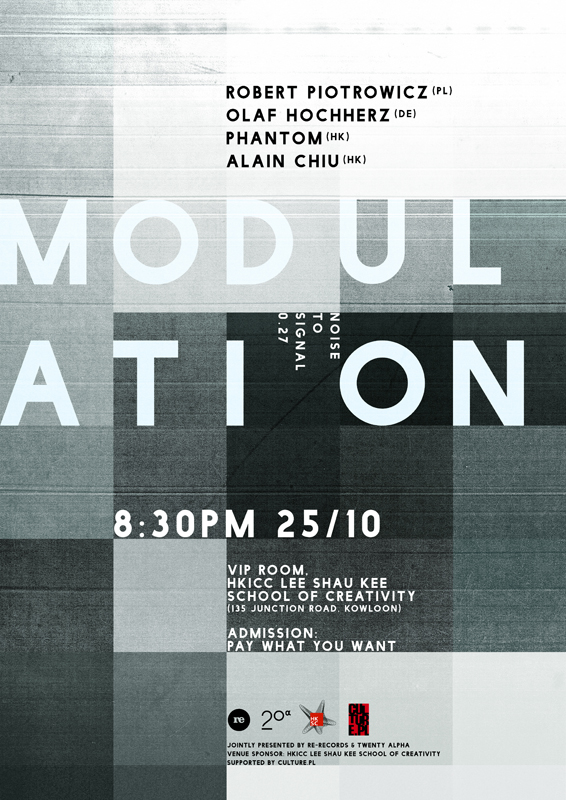 Noise To Signal 0.27
Modulation
8:30pm, 25 October, 2014
Robert Piotrowicz (PL)
Olaf Hochherz (DE)
Phantom (HK)
Alain Chiu (HK)
VIP Room, HKICC LEE SHAU KEE SCHOOL OF CREATIVITY
NO.135, JUNCTION ROAD, KOWLOON, HONG KONG
Admission: Pay What You Want
Jointly Presented by Re-Records & Twenty Alpha
Venue Sponsored by HKICC Lee Shau Kee School Of Creativity
Programme & Ticketing Enquiries
rerecordshk@gmail.com
Press Inquiries
+852 2139 5230 / info@twentyalpha.org
ABOUT THE ARTISTS
Robert Piotrowicz (PL)
www.robertpiotrowicz.net
Robert Piotrowicz is a sound artist, composer and improviser. He has authored radio dramas, sound installations, and music for theatre productions, and collaborates regularly with other artists on audio-visual performances. As an instrumentalist, Piotrowicz works mainly with his own live performance setup, developed around the electric guitar and analogue modular synthesiser. His music has as much in common with contemporary electro-acoustic compositions as it does with sound art. His concerts feature saturated, detailed musical forms created with analogue synthesizers and computers. He has developed his trademark sound of intense dynamics seized in dramatic and balanced structures.
Piotrowicz has released several solo albums as well as collaborations with artists such as Burkhard Stangl, Anna Zaradny, Jérôme Noetinger, C. Spencer Yeh and Kevin Drumm. Other collaborators in recent years included Valerio Tricoli, Oren Ambarchi, Martin Klapper, Zbigniew Karkowski, Łukasz Szałankiewicz, Lasse Marhaug, John Hegre, Kasper Toepltz, Xavier Charles,Tony Buck and others.
He is also co-founder of the Musica Genera Festival and the Musica Genera label.
Olaf Hochherz (DE)
hochherz.klingt.org
Olaf Hochherz is born 1981 in Wuppertal/Germany. He improvises with self build electronic instruments and is interested in unstable systems. His goal is not to control a technical aperture but to create an associative field. The sounds have their own live. His playing tries to keep them alive. He is interested in the effect acoustic activity has, the relation between surrounding environment and instruments, between abstract sounds and associations, between electrical and other worlds.
Phantom (HK)
Phantom, a local modular synthesizer duo of Hong Kong established by William Cheung in 2014. Timmy Lok joined and started to improvise free form electronic music using all analogue full or semi-modular synthesizer systems.
Alain Chiu (HK)
www.alainchiu.com
Award-winning composer Alain Chiu's music has been performed in concert halls and festivals throughout the world. His music was heard in the 41st & 42nd Hong Kong Arts Festival, Hong Kong Week at Taipei, Jumping Frames Italy Tour and Cannes Film Festival, and has been performed by the Ives Quartet, the Afiara Quartet, William Lane, Kung Chi Shing, Louis Siu and among many fine musicians.
Chiu's music was recorded by the Grammy Award winning ensemble Orchestra of Our Time in 2011. He is working on a multimedia opera that deals with class issues in Hong Kong.
ABOUT RE-RECORDS & NOISE TO SIGNAL
Re-Records is a record label initiated by experimental / electro-acoustic duo No One Pulse from Hong Kong. With Re, we don't solely aim to be an outlet for releasing self-initiated or other affiliated projects, but also for artists and releases we deem interesting.
Noise to Signal is a performance series for improvised noise and experimental music within the context of performing art.
Artists who had performed in our concert series:
… (CH), iii (HK), 23N! (JP), After Doom (HK), ahshun aka bjornho (HK), Alexei Borisov (RU), Alfred 23 Harth (DE), Alok (HK), ASTMA (RU), Black Zenith (SG), Brian O'Reilly (SG), Caligine (IT), Christiaan Virant (FM3), Circuitrip (SG), Claudio Rocchetti (IT), Composers Union of New Tunes (HK), Da Xiao (CN), Dickson Dee (HK), dj sniff (NL), DJ Urine (FR), Diode (HK), e:ch (MO), Everdark (HK), Fiona Lee (JK), Fritz Welch (UK), Fumiko Ikeda (JP), Go Koyashiki (JP), Gregory Buttner (DE), Heroses (HK), High Wolf (FR), James Fei (US), Joao Vasco Paiva (HK), Jun-Y CIAO (CN), Kazuhisa Uchihashi (JP), Kevin Pang (HK), Klaus Janek (IT), KLC_NIR (CN), KWC (HK), Laurent Valdès (CH), Li YangYang (CN), Li Zenghui (CN), Lin Zhiying (CN), Margie Tong (HK), Mei ZhiYong (CN), Meta Fog (HK), Naturalismo (IT), Nerve (HK), No One Pulse (HK), Oetzi.P (HK), Olaf Hochherz (DE), Olga Nosova (RU), Patrick Donze (CH), Purple Pilgrims (NZ), Ricardo da Silva (CH), Richard Francis (NZ), Shelf-Index (HK), Sherman (HK), shotahirama (JP), Sin:Ned (HK), Syndrome WPW (CH), Taishi Kamiya (JP), Tetragrammaton (JP), The Invisible Frog and Time Machine aka Ronez (CN), Toshikazu Goto (JP), ::vtol:: (RU), Wilmer Ongsitco Chan (HK), Wilson Tsang (HK), Yan Jun (CN), Yang Xiu (CN), Yellow Crystal (HK), Yukitomo Hamasaki (JP), Zbigniew Karkowski (PL), ZenLu (CN), ZHANG You-Sheng (TW)…
Please join our group on Facebook: www.facebook.com/groups/rerec