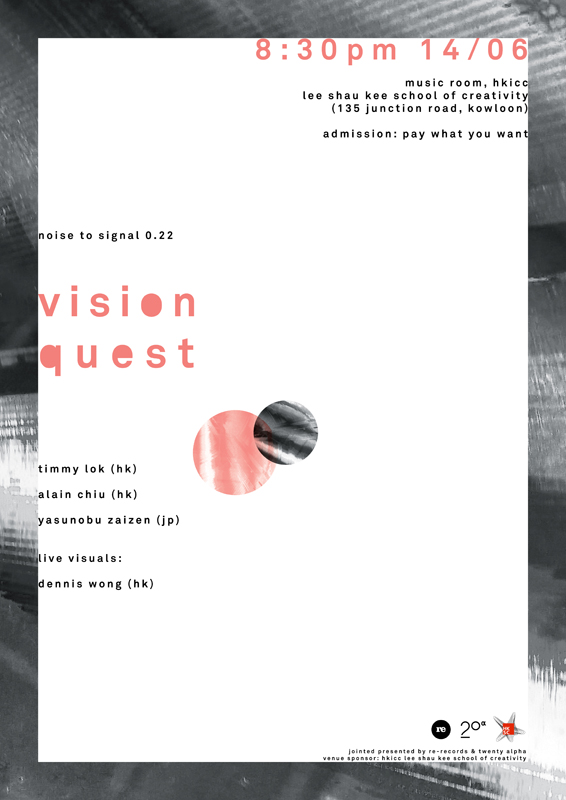 Noise To Signal 0.22
Vision Quest
8:30pm, 14 June, 2014
Timmy Lok (HK)
Alain Chiu (HK)
Yasunobu Zaizen (JP)
Live Visauls: Dennis Wong (HK)
MUSIC ROOM, HKICC LEE SHAU KEE SCHOOL OF CREATIVITY
NO.135, JUNCTION ROAD, KOWLOON, HONG KONG
Admission: Pay What You Want
Co-Organised by Re-Records & Twenty Alpha
Venue Sponsored by HKICC Lee Shau Kee School Of Creativity
Programme & Ticketing Enquiries
rerecordshk@gmail.com
Press Inquiries
+852 2139 5230 / info@twentyalpha.org
ABOUT THE ARTISTS
Timmy Lok (HK)
www.soundcloud.com/timmy-lok
Timmy Lok has been making electronic music since 1982, and is the founding member of electronic units Minimal, Juno and S.J. Mojo. As an electronic musician, he had performed in Hong Kong, Taiwan and China, and as the supporting act for The Orb in Hong Kong. He had collaborated with a lot of musicians such as Jon Rose, and remixed for artists such as Moloko. Since 1989, he had taken part in over 20 compilations including: Eternal Blue Extreme: An Asian Tribute To Derek Jarman (Somnus, Canada 1994); Turntable Solos (compiled by Otomo Yoshihide / Amoebic Japan, 1999); An Anthology Of Chinese Experimental Music 1992-2008 (Sub Rosa Belgium, 2009); Tribute To FM3: Buddha Machine 4 Vol.1 (Lona Records Hong Kong, 2013).
As a composer, he makes theme music and soundtracks for computer games and multimedia projects since 1994. He also composed and arranged music for local pop artists such as Jan Lamb.
In 2013, he formed a new experimental electronic music duo, Self-Ox Randomness, with post-rock guitarist Eddie Hui, and started to produce and host a radio programme "EC Music Lecture" for DAB31, RTHK focusing on electronic music culture, gears and technology.
Alain Chiu (HK)
www.alainchiu.com
An active composer in the music and multimedia scene of Hong Kong, Alain Chiu's music has been performed in concert halls and festivals throughout the world.
Chiu's music displays a kaleidoscope of influences from Takemitsu, Cage, Ades and Bach to mainstream music like King Crimson, the Beatles, Laurie Anderson and Bill Evans. The combination of insights he gained as a modern day flâneur and his multi-cultural musical influences results in what he calls an "urban existentialist" approach to classical music.
Along with choreographer Max Lee and dramaturge Frankie Mcnugget, Chiu is one of the creators of the experimental theatre group Trilateral which founded in 2013. Trilateral performed at 2013 People's Fringe Festival as well as DETOUR 2013.
Yasunobu Zaizen 財前康宣 (JP)
A Japanese electronic musician formerly known as yy_zz. He had performed for event such as "Unseen", "2008 Hong Kong & Shenzhen Bi-city Biennale of Urbanism / Architecture", "10 Concert in Hong Kong"…etc. His works had been released by Niko label in Japan. Zaizen is now living and working in China.
ABOUT RE-RECORDS & NOISE TO SIGNAL
Re-Records is a record label initiated by experimental / electro-acoustic duo No One Pulse from Hong Kong. With Re, we don't solely aim to be an outlet for releasing self-initiated or other affiliated projects, but also for artists and releases we deem interesting.
Noise to Signal is a performance series for improvised noise and experimental music within the context of performing art.
Artists who had performed in our concert series:
… (CH), iii (HK), 23N! (JP), After Doom (HK), ahshun aka bjornho (HK), Alexei Borisov (RU), Alfred 23 Harth (DE), Alok (HK), ASTMA (RU), Black Zenith (SG), Brian O'Reilly (SG), Caligine (IT), Christiaan Virant (FM3), Circuitrip (SG), Claudio Rocchetti (IT), Composers Union of New Tunes (HK), Da Xiao (CN), Dickson Dee (HK), dj sniff (NL), DJ Urine (FR), Diode (HK), e:ch (MO), Everdark (HK), Fiona Lee (JK), Fritz Welch (UK), Fumiko Ikeda (JP), Go Koyashiki (JP), Gregory Buttner (DE), Heroses (HK), High Wolf (FR), James Fei (US), Joao Vasco Paiva (HK), Jun-Y CIAO (CN), Kazuhisa Uchihashi (JP), Kevin Pang (HK), Klaus Janek (IT), KLC_NIR (CN), KWC (HK), Laurent Valdès (CH), Li YangYang (CN), Li Zenghui (CN), Lin Zhiying (CN), Margie Tong (HK), Mei ZhiYong (CN), Meta Fog (HK), Naturalismo (IT), Nerve (HK), No One Pulse (HK), Oetzi.P (HK), Olaf Hochherz (DE), Olga Nosova (RU), Patrick Donze (CH), Purple Pilgrims (NZ), Ricardo da Silva (CH), Richard Francis (NZ), Shelf-Index (HK), Sherman (HK), shotahirama (JP), Sin:Ned (HK), Syndrome WPW (CH), Taishi Kamiya (JP), Tetragrammaton (JP), The Invisible Frog and Time Machine aka Ronez (CN), Toshikazu Goto (JP), ::vtol:: (RU), Wilmer Ongsitco Chan (HK), Wilson Tsang (HK), Yan Jun (CN), Yang Xiu (CN), Yellow Crystal (HK), Yukitomo Hamasaki (JP), Zbigniew Karkowski (PL), ZenLu (CN), ZHANG You-Sheng (TW)…
Please join our group on Facebook: www.facebook.com/groups/rerec