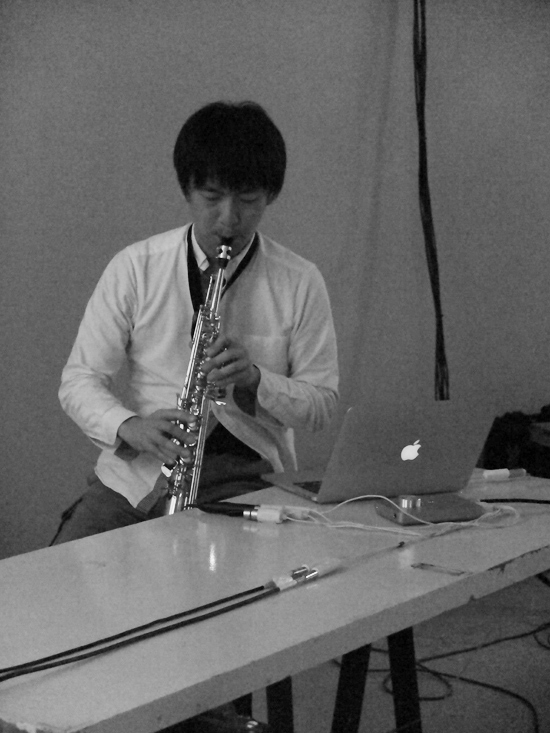 Taishi Kamiya (Photo: Adrian Leung)
Noise To Signal 0.11
Taishi Kamiya
8:00pm, 19 March, 2013
Taishi Kamiya (Japan)
dj sniff (Japan/Hong Kong)
Nerve (Hong Kong)
CIA (Culture Industries Association)
Unit 7, 8/F, Block B, Wah Tat Industrial Centre, 8-10 Wah Sing Street, Kwai Hing, Kowloon, Hong Kong
華達工業大厦B座八樓七室, 八至十號華星街, 葵興
Admission: HK$100 (Advance) / HK$130 (At door)
For reservation and enquiries
rerecordshk@gmail.com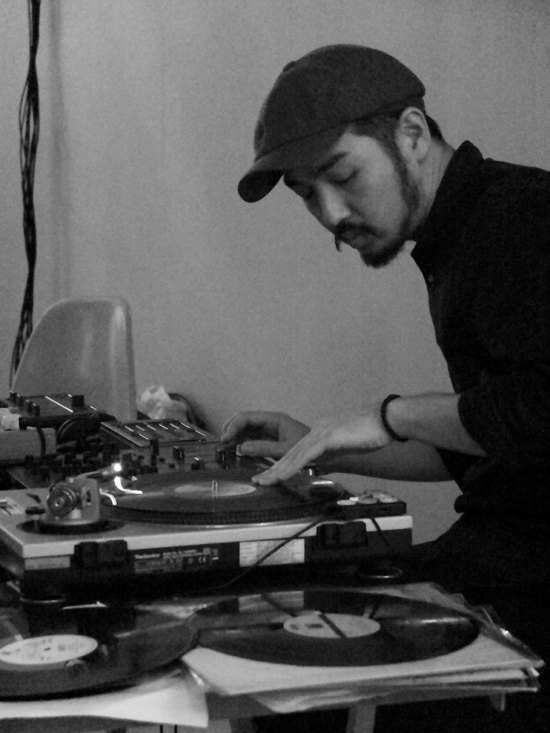 dj sniff (Photo: Adrian Leung)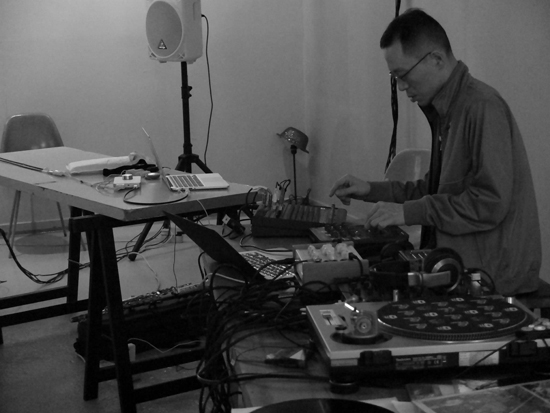 Nerve (Photo: Adrian Leung)
ABOUT THE ARTISTS
Taishi Kamiya (Japan)
www.windtail.com
www.soundcloud.com/taishi_kamiya
Taishi Kamiya is a sound artist and a developer of sounding devices born in Sapporo.
He plays the soprano saxophone and processes saxophone sound and field recording sound in real time to create his music.
Also, he is interested in the site-specific characteristics of sounds. He pursues a moment in which sounds become music through his performances at various locations, such as temple and snow field, and composition of his installation works in which he creates unknown acoustic space by coordinating these site-specific sounds.
dj sniff (Japan/Hong Kong)
www.djsniff.com
Takuro Mizuta Lippit (aka dj sniff) is a musician, curator and producer in the field of experimental electronic arts and improvised music.
His musical work builds upon a distinct practice that combines DJing, instrument design and free improvisation. He is interested in how a mediated musical memory, from archival collections of vinyl records to digitally captured sound events during a performance, can be used to create a new sonic reality that emerges through the fleeting notion of the "now." This pursuit has led him to create customized instruments that allow him to intuitively access and re-play these different temporalities ingrained in our listening consciousness. His live performances range from carefully constructed solo sets to improvisational groups with virtuosic instrumentalists.
His curatorial work aims to present a global overview on new experimental approaches to music, sound and performance. He is often involved in facilitating the technical or conceptual development of the works that he features, and his network is built from being an active artist in the field. During his appointment as Artistic Director of STEIM (2007 – 2012) in Amsterdam, he has curated and produced over 100 projects including large scale international festivals and award winning art works.
He has performed throughout Europe, Asia and The United States at various venues and international festivals including Club Transmediale Berlin, Warsaw Autumn, Japan Society NYC, The REDCAT Los Angeles, March Meeting Sharjah, Jazz em Agosto Lisbon, and FLOW Festival Helsinki. He has released 12 DJ mixes and 2 solo albums, and his work has been reviewed in the New York Times, All About Jazz, The WIRE and createdigitalmusic.com.
He has musical projects with eRikM, Tatsuhisa Yamamoto, Astro Twin (Ami Yoshida & Utah Kawasaki), Adachi Tomomi, Keir Neuringer, Raed Yassin, Yutaka Makino, Paul Hubwebber, Future Fossils (Raoul van der Weide & Sanne van Hek), Daysuke Takaoka, Mark Sanders, Andy Moor (The Ex), Jaap Blonk and C. Spencer Yeh. In the past he has had the honor to play with some of his heroes such as Evan Parker, Otomo Yoshihide, Akira Sakata, David Toop, Martin Tetreault and Michel Waisvisz.
dj sniff is now based in Hong Kong.
Nerve (Hong Kong)
Graduated from the Hong Kong Academy for Performing Arts with a master degree in composition and electronic music, Hui is a member of electronic music group VSOP and DJ of the clubnight "Are Friends Electric?". With his multidisciplinary background, Hui's main interest lies in exploring and experimenting the boundaries between contemporary music, sound art, multimedia theatre and pop culture. He was commissioned by Zuni Icosahedron to compose his first opera The Memory Palace of Matteo Ricci in 2010, and commissioned by City University of Hong Kong to compose The Four Infinities for the opening of the Run Run Shaw Creative Media Centre in 2012.
ABOUT RE-RECORDS & NOISE TO SIGNAL
Re-Records is a record label initiated by experimental / electro-acoustic duo No One Pulse from Hong Kong. With Re, we don't solely aim to be an outlet for releasing self-initiated or other affiliated projects, but also for artists and releases we deem interesting.
Noise to Signal is a performance series for improvised noise and experimental music within the context of performing art.
Artists who had performed in our concert series:
… (CH), iii (HK), 23N! (JP), After Doom (HK), ahshun aka bjornho (HK), Alexei Borisov (RU), Alfred 23 Harth (DE), Alok (HK), ASTMA (RU), Black Zenith (SG), Brian O'Reilly (SG), Caligine (IT), Christiaan Virant (FM3), Circuitrip (SG), Claudio Rocchetti (IT), Composers Union of New Tunes (HK), Da Xiao (CN), Dickson Dee (HK), dj sniff (NL), DJ Urine (FR), Diode (HK), e:ch (MO), Everdark (HK), Fritz Welch (UK), Fumiko Ikeda (JP), Go Koyashiki (JP), Gregory Buttner (DE), Heroses (HK), High Wolf (FR), James Fei (US), Joao Vasco Paiva (HK), Jun-Y CIAO (CN), Kazuhisa Uchihashi (JP), Klaus Janek (IT), KLC_NIR (CN), KWC (HK), Laurent Valdès (CH), Li YangYang (CN), Li Zenghui (CN), Lin Zhiying (CN), Margie Tong (HK), Mei ZhiYong (CN), Meta Fog (HK), Naturalismo (IT), Nerve (HK), No One Pulse (HK), Oetzi.P (HK), Olaf Hochherz (DE), Olga Nosova (RU), Patrick Donze (CH), Purple Pilgrims (NZ), Ricardo da Silva (CH), Richard Francis (NZ), Shelf-Index (HK), Sherman (HK), shotahirama (JP), Sin:Ned (HK), Syndrome WPW (CH), Taishi Kamiya (JP), Tetragrammaton (JP), The Invisible Frog and Time Machine aka Ronez (CN), Toshikazu Goto (JP), ::vtol:: (RU), Wilmer Ongsitco Chan (HK), Wilson Tsang (HK), Yan Jun (CN), Yang Xiu (CN), Yukitomo Hamasaki (JP), Zbigniew Karkowski (PL), ZenLu (CN)…
Please join our group on Facebook: www.facebook.com/groups/rerec
ABOUT CIA (Cultural Industries Association)
Through our regular programs of concerts, art exhibitions, film screenings, seminars and workshops, it is our hope to bring to you not what have we seen already, but rather how we perceived these ideas, their contexts, and how these seemingly abstract concepts can affect and relate to our everyday lives. To prompt changes, renew our senses and debase our previously fixated point of views, this is the only way to a future – any future away from here. According to Plato, we live chained inside a dark cave; all we can see is the back wall and the shadows that move there. Carl Jung called this his shadow work. That what we in fact seeing are aspects of ourselves that fall over one another. Shadows. Projections. Our associations – of the culture industries.
www.CIAHK.org