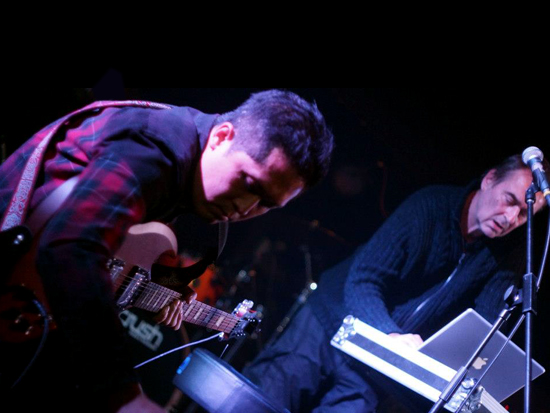 Sin:Ned & Zbigniew Karkowski (Photo: Vic Shing)
Noise To Signal 0.09
+N2G
8:30pm, 15 January, 2013
Zbigniew Karkowski (Poland) + Sin:Ned
Composers Union of New Tunes
Meta Fog
Heroses
Everdark
After Doom
Hidden Agenda
2A, Wing Fu Industrial Building, 15-17 Tai Yip Street, Kwun Tong, Kowloon, Hong Kong
Admission: HK$120 (Advance) / HK$150 (At door)
For reservation and enquiries
rerecordshk@gmail.com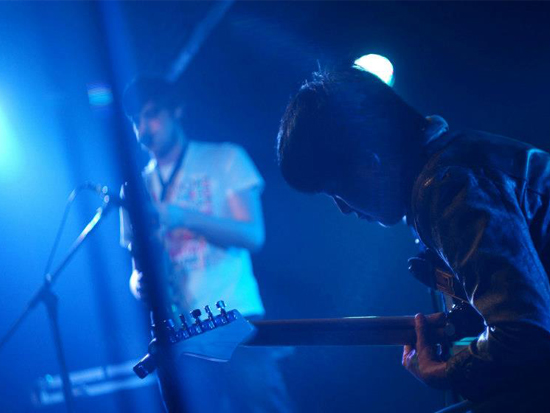 Composers Union of New Tunes (Photo: Vic Shing)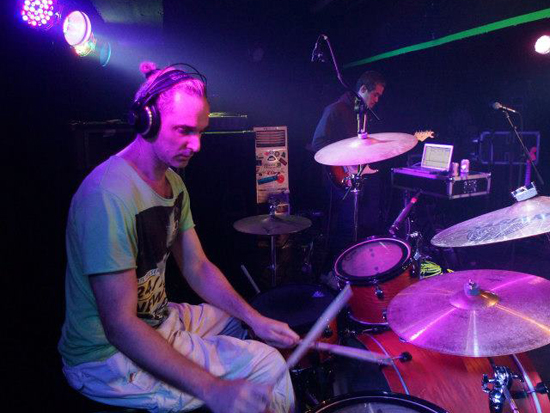 Meta Fog (Photo: Vic Shing)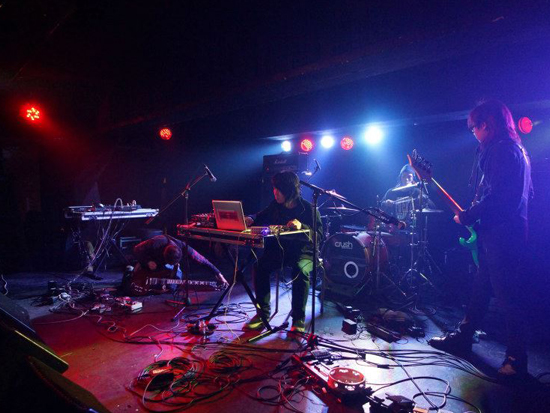 After Doom (Photo: Vic Shing)
ABOUT THE ARTISTS
Zbigniew Karkowski
site.douban.com/zbigniewkarkowski/
www.myspace.com/zbigniewkarkowski
Zbigniew Karkowski was born in 1958 in Krakow, Poland. He studied composition at the State College of Music in Gothenburg, Sweden, aesthetics of modern music at the University of Gothenburg's Department of Musicology, and computer music at the Chalmers University of Technology. After completing his studies in Sweden, he studied sonology for a year at the Royal Conservatory of Music in Den Haag, Netherlands. During his education, he also attended many summer composition master courses arranged by Centre Acanthes in Avignon and Aix-en-Provence, France, studying with Iannis Xenakis, Olivier Messiaen, Pierre Boulez, and Georges Aperghis, among others. He works actively as a composer of both acoustic and electroacoustic music. He has written pieces for large orchestra (commissioned and performed by the Gothenburg Symphony Orchestra), plus an opera and several chamber music pieces that were performed by professional ensembles in Sweden, Poland, and Germany. He is a founding member of the electroacoustic music performance trio "Sensorband." Since 1995 he is based in Tokyo, Japan where he collaborates closely with japanese avantgarde scene. He has extensively toured in Europe, Asia, North America, South America and Australia and his music has been performed at several festivals
Besides working as a composer of contemporary music he has been collaborating with several experimental groups and artists like: The Hafler Trio, Blixa Bargeld, Merzbow, Stelarc, John Duncan, Aube, Tetsuo Furudate, CCCC, KK Null, Antimatter, Francisco Lopez, Kasper T. Toeplitz, Peter Rehberg, Li Chin Sung and has worked on remixing artists and bands like Iannis Xenakis, Clock DVA, Phauss, Jazzkammer, Florian Hecker, TV Pow, Rechenzentrum, Fred Bigot, Fear of God, Nosei Sakata and The New Blockaders.
He has as well written music for film, video, theatre and dance. His scores are published and distributed by STIM in Sweden and until today he has released more than 100 cds by labels all over the World. He is convinced that it is a responsibility of an artist in the present day to travel and work around the World in order to learn and understand different cultures and traditions and discover truth about ourselves and our planet. He also strongly believes that geographical, political and social exile is a necessary condition for true and honest creation. He is not interested in the traditional definition of music, in his opinion, all musical theory and systems as cultural concepts must be destroyed. In his latest work, his main concern is to realize drama with sound – electronic and acoustic walls with the architectures of ruins transcribed in the scores.
Sin:Ned
www.sin-ned.blogspot.com
Sin:Ned, aka Wong Chung-fai, is an unorthodox sonic evangelist who practices improvisational mysticism. He is the co-founder of Re-Records (www.re-records.com) and No One pulse.
Composers Union of New Tunes
www.facebook.com/ComposersUnionOfNewTunes
Composers Union for New Tunes is a lethal free Improvisational duo from Hong Kong formed by Kevin Pan (guitars, vocals) and Callum MacKenzie (sax). Kevin used to play in bands like Heta Uma and Charisma. Callum is currently playing in a wide variety of different jazz groups in Hong Kong.
Meta Fog
www.soundcloud.com/meta-fog
www.vimeo.com/44259399
Meta Fog consists of Sascia Pellegrini (drums, percussion, electronics) and Eric Wong (guitar, electronics) whop attempt to do musical and art mashup by abusing, decompose and rebuilt in alternatives/other forms the audible elements the duo have experienced and fill them into their music, making use of electronics live, backtracks and heavy processing. The duo has already performed in many venues in Hong Kong and is establishing connections and agreements for future shows in mainland China, Singapore, Taiwan and Japan.
Italian contemporary musician Sascia Pellegrini is not only a music adventurer but also a landscaper: he traverses and ventures the borders of different media and genre; he sculpts soundscapes from computer, loops, voice percussion and/or any material on location. He is a classically trained percussionist pianist and composer and followed various international courses to deepen different aspects concerning composition and performing in classical contemporary music and live electronic interaction. He studied percussion, conducting and composition with S.Schick, S.Gualda, P.Eotvos at Ircam in France (http://www.ircam.fr/), percussion and electronic music with P.Tini, A.Nicoli in the Conservatory (http://wip.conservatoriopuccini.com/) and drums with C.Mayer at Cpm (http://www.centroprofessionemusica.it/) in Italy.His works include realizing soundtracks for video artist, performing in many different festival and venues in Italy, France, Germany, Japan, mainland China and Hong Kong, not to mention a variety of composing works for different kinds of ensembles from jazz to chamber music. His main composing interest lies in the inter-media interaction between different art forms.
Eric Wong first picked up the guitar at the age of 19, and started his interest in electronic music during the time in audio school few years after graduating from college. Formed the duo Meta Fog with Italian drummer / percussionist / electronic programmer Sascia Pellegrini in early 2012. Wong as well works on his solo projects under the name Error: Wrong in approaching of minimalism, glitch, and sound manipulation. Before forming Meta Fog, he was the live guitarist / electronics operator for the Hong Kong based extreme pop band No One Remains Virgin. He was invited to participated the cross-country compilation T(h)REE and the subsequent T(h)REE 1.5 along with other acts from Hong Kong, Macau, and Portugal. He also has collaborated with artists of different areas include modern dance, new media, live painting, etc. as well as commercial compositions for websites and short films.
Heroses
www.facebook.com/pages/Heroses/123402281048548
Heroses – Heroes and Roses. A spiritual, romantic, alternative band in this dried-out city.
Since the early spring of 2009, the members of Heroses have been struggling hard in expressing every tiny piece of feelings, thoughts and paradoxical daily life experiences with rhythms and sounds.
The diversity of our music backgrounds never hinders us in staying in the same line; in fact, it inspires us to explore a wide range of elements. By no means do we limit our steps to merely a few "labels"or "stereotypes". Instead, we seek out the other side of this fascinating music world.
For the current line up, apart from our two permanent members (Ring and Lina), we also love to work with friends and other musicians who share the same music interest with us.
We embrace music as well as life. Heroses: Heroes and Roses.
Everdark
www.facebook.com/everdarkss
A dark tempo duo formed by Andrew Leung (Lv. 0 Producer, DJ & Founder Of Strategic Sounds) and Adrian Leung (Bassist & social photographer).
After Doom
www.soundcloud.com/after-doom-hk
Originally intended to be a freeform extreme grindcore noise doom metal unit, After Doom was born after the end of the world in Hong Kong, and turned out to be nothing like it is expected to be.
The group consisted of an impossible mix of members. TO is the drummer of the metal band Loiter; Andrew and Adrian is also an electronic dark tempo duo Everdark with musical influence from minimal techno, dub step, hardcore and post-rock; Dennis Wong aka Wong Chung-fai is a noise improviser and experimental mystics working under the name Sin:Ned.
The aftermath: a freeform noise grind drone unit that goes all the way to the extremes, way beyond noise and insanity….
ABOUT RE-RECORDS & NOISE TO SIGNAL
Re-Records is a record label initiated by experimental / electro-acoustic duo No One Pulse from Hong Kong. With Re, we don't solely aim to be an outlet for releasing self-initiated or other affiliated projects, but also for artists and releases we deem interesting.
Noise to Signal is a performance series for improvised noise and experimental music within the context of performing art.
Artists who had performed in our concert series:
… (CH), iii (HK), 23N! (JP), After Doom (HK), ahshun aka bjornho (HK), Alexei Borisov (RU), Alfred 23 Harth (DE), Alok (HK), ASTMA (RU), Black Zenith (SG), Brian O'Reilly (SG), Caligine (IT), Christiaan Virant (FM3), Circuitrip (SG), Claudio Rocchetti (IT), Composers Union of New Tunes (HK), Da Xiao (CN), Dickson Dee (HK), dj sniff (NL), DJ Urine (FR), Diode (HK), e:ch (MO), Everdark (HK), Fritz Welch (UK), Fumiko Ikeda (JP), Go Koyashiki (JP), Gregory Buttner (DE), Heroses (HK), High Wolf (FR), James Fei (US), Joao Vasco Paiva (HK), Jun-Y CIAO (CN), Kazuhisa Uchihashi (JP), Klaus Janek (IT), KLC_NIR (CN), KWC (HK), Laurent Valdès (CH), Li YangYang (CN), Li Zenghui (CN), Lin Zhiying (CN), Margie Tong (HK), Mei ZhiYong (CN), Meta Fog (HK), Naturalismo (IT), Nerve (HK), No One Pulse (HK), Oetzi.P (HK), Olaf Hochherz (DE), Olga Nosova (RU), Patrick Donze (CH), Purple Pilgrims (NZ), Ricardo da Silva (CH), Richard Francis (NZ), Shelf-Index (HK), Sherman (HK), shotahirama (JP), Sin:Ned (HK), Syndrome WPW (CH), Taishi Kamiya (JP), Tetragrammaton (JP), The Invisible Frog and Time Machine aka Ronez (CN), Toshikazu Goto (JP), ::vtol:: (RU), Wilmer Ongsitco Chan (HK), Wilson Tsang (HK), Yan Jun (CN), Yang Xiu (CN), Yukitomo Hamasaki (JP), Zbigniew Karkowski (PL), ZenLu (CN)…
Please join our group on Facebook: www.facebook.com/groups/rerec