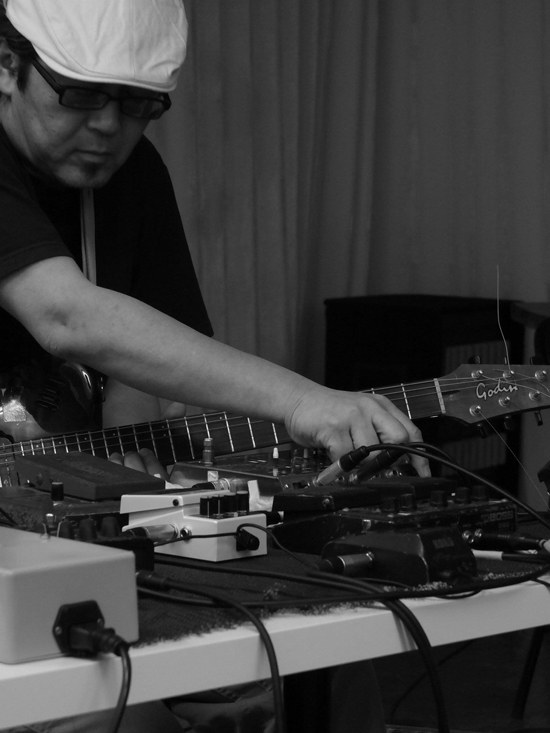 Kazuhisa Uchihashi (Photo: Adrian Leung)
Noise To Signal 0.03


7:30pm, 15 April, 2012
Kazuhisa Uchihashi (Guitar/Japan)
Sin:Ned (Guitar, Electronics/Hong Kong)
Strategic Sounds
Workshop E, 10/F, High Win Factory building, 47 Hoi Yuen Road, Kwun Tong, Kowloon, Hong Kong
觀塘開源道47號凱源工業大廈10樓E室
Admission: HK$120 (At door)
For reservation and enquiries
rerecordshk@gmail.com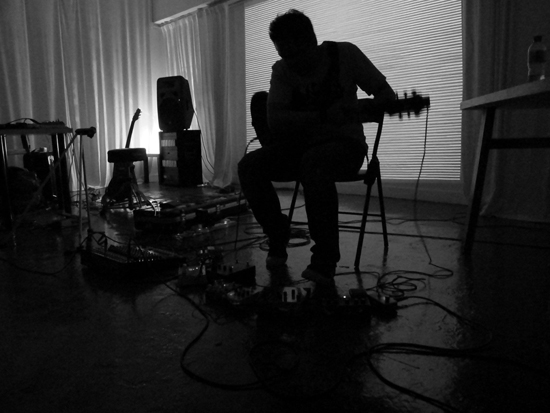 Sin:Ned (Photo: Adrian Leung)
ABOUT THE ARTISTS
Kazuhisa Uchihashi (Japan)
www.japanimprov.com/kuchihashi/
Kazuhisa Uchihashi was born in Osaka in 1959. He started playing guitar at the age of 12, and played in folk and rock bands in junior high and high school. While a student at Osaka University of Foreign Languages, he learned jazz technique and started playing in clubs and studios. Since about 1983 he has actively developed music centered on free improvisation, and expanded the possibilities of the electric guitar by innovating various sound effects.
In 1988 he joined the band the First Edition, and in 1990 formed the band Altered States. He was also a member of Otomo Yoshihide's Ground Zero from 1994 to 1997. Uchihashi also plays daxophone, and
in addition to his role as a free improviser, Uchihashi has been the musical director for Osaka theatregroup Ishinha, has held improvisation workshops (a project known as New Music Action) in various cities in Japan, as well as London, and has set up his own record label, Innocent Records a.k.a. Zenbei Records, had held music festival from 1996 Festival BEYOND INNOCENCE annual for eleven years.
Sin:Ned (Hong Kong)
sin-ned.blogspot.com
Also know as Wong Chung-fai, an idiosyncratic improviser, sonic junkie, live-visualist, micro-curator and free-lance writer from Hong Kong. Co-founder of the experimental imprint Re-Records and member of the electro-acoustic duo No One Pulse.
Being a veteran writer of the legendary Hong Kong alternative music magazine MCB (Music Colony B-Weekly), his writings had influenced a wide spectrum of experimental musicians and listeners. While not writing as a pseudo-music critic elaborating his esoteric worldview, in the same idiosyncratic fashion, he spends much of his time hacking and sculpting sonic materials with his laptop and various non-standard electronic gears. With his on-going experimentation embracing improvisation, noise, errors, chaos and randomness, he has been re-visioning an unorthodox sound-making process expressed in extreme dichotomies, and driven by intuition and direct experience.
He had offered performance and creative work for concert, sound installation, workshop, audio-visual
and theatrical performance. He had taken part and performed in events such as HK Sound and Vision Festival (2003), Get It Louder (2007), Hong Kong & Shenzhen Biennale of Urbanism/Architecture
(2007, 2009), Architecture is Art Festival (2009), Notch Festival Guangzhou Station (2009), MILK+ (2010), and Whisper Music Festival (2010).
ABOUT RE-RECORDS & NOISE TO SIGNAL
Re-Records is a record label initiated by experimental / electro-acoustic duo No One Pulse from Hong Kong. With Re, we don't solely aim to be an outlet for releasing self-initiated or other affiliated projects, but also for artists and releases we deem interesting.
Noise to Signal is a performance series for improvised noise and experimental music within the context of performing art.
Artists who had performed in our concert series:
… (CH), iii (HK), 23N! (JP), After Doom (HK), ahshun aka bjornho (HK), Alexei Borisov (RU), Alfred 23 Harth (DE), Alok (HK), ASTMA (RU), Black Zenith (SG), Brian O'Reilly (SG), Caligine (IT), Christiaan Virant (FM3), Circuitrip (SG), Claudio Rocchetti (IT), Composers Union of New Tunes (HK), Da Xiao (CN), Dickson Dee (HK), dj sniff (NL), DJ Urine (FR), Diode (HK), e:ch (MO), Everdark (HK), Fritz Welch (UK), Fumiko Ikeda (JP), Go Koyashiki (JP), Gregory Buttner (DE), Heroses (HK), High Wolf (FR), James Fei (US), Joao Vasco Paiva (HK), Jun-Y CIAO (CN), Kazuhisa Uchihashi (JP), Klaus Janek (IT), KLC_NIR (CN), KWC (HK), Laurent Valdès (CH), Li YangYang (CN), Li Zenghui (CN), Lin Zhiying (CN), Margie Tong (HK), Mei ZhiYong (CN), Meta Fog (HK), Naturalismo (IT), Nerve (HK), No One Pulse (HK), Oetzi.P (HK), Olaf Hochherz (DE), Olga Nosova (RU), Patrick Donze (CH), Purple Pilgrims (NZ), Ricardo da Silva (CH), Richard Francis (NZ), Shelf-Index (HK), Sherman (HK), shotahirama (JP), Sin:Ned (HK), Syndrome WPW (CH), Taishi Kamiya (JP), Tetragrammaton (JP), The Invisible Frog and Time Machine aka Ronez (CN), Toshikazu Goto (JP), ::vtol:: (RU), Wilmer Ongsitco Chan (HK), Wilson Tsang (HK), Yan Jun (CN), Yang Xiu (CN), Yukitomo Hamasaki (JP), Zbigniew Karkowski (PL), ZenLu (CN)…
Please join our group on Facebook: www.facebook.com/groups/rerec