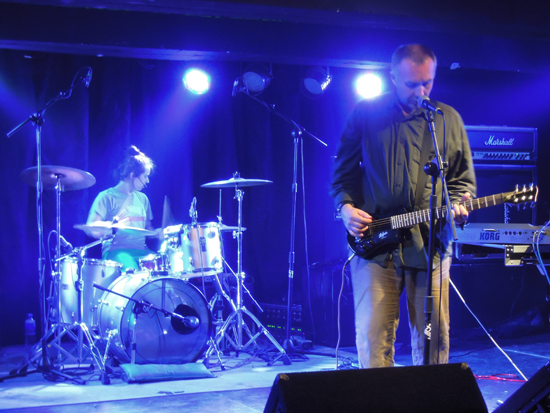 Olga Nosova & Alexei Borisov (Photo: Dennis Wong)
Noise To Signal 0.02
5ivElements
7:30pm, 17 March, 2012
Alexei Borisov (Electronics, Voice/Russia)
Olga Nosova (Drums, Voice/Russia)
Nelson Hiu (Multi-instruments/Hong Kong)
Patrick Donzé (Electronics/Switzerland)
Wong Chung-fai (Electric Guitar, Electronics/Hong Kong)
Hidden Agenda
2A, Wing Fu Industrial Building, 15-17 Tai Yip Street, Kwun Tong, Kowloon, Hong Kong
Admission: HK$120 (At door)
For reservation and enquiries
rerecordshk@gmail.com
ABOUT THE ARTISTS
Alexei Borisov (Russia)
Making music on the fringe since the underground movement ignited in Russia in the beginning 80s, Alexei Borisov has developed an impressively diverse body of work as a member of NIGHT PROSPEKT, F.R.U.I.T.S. and VOLGA, among many other projects. He is also founding member of ASTMA.
Born in Moscow on December 7, 1960, Alexei Borisov graduated the Moscow State University where he had studied History and Arts. His controversial performing career (as a guitarist) began in the CENTER new-wave group, in 1980. Next year, he formed the PROSPEKT mod-band. And re-loaded it in 1985 as the shifting NIGHT PROSPEKT with then-partner Ivan Sokolovsky. After the actual dissolution of the band in the beginning 1990s, he surfaced then in the "noise reconstruction and techno acoustics" duo F.R.U.I.T.S. with Pavel Zhagun (also known as PIEZO) and in various short-lived art/noise/industrial acts like JOINT COMMITTEE, ATOMIC BISQUIT ORCHESTRA and SEVER.
Among other Borisovs' collaborations are the joint projects with the performance-group "North" (Russia), KK Null (Japan), Jeffrey Surak (USA), Leif Ellgren (Sweden). Borisov also collaborates with the video-artist Roman Anikushin, multimedia-artists Aristarh Chernishev and Vladislav Efimov and also with Olga Subbotina, Moscow theatre director. Lately Borisov prefers solo music career. He also works as a DJ in clubs and on radio and contributed as a journalist to some Russian ("Bulldozer", "Ptjuch", "Fuzz", "Downtown", "man'Music", etc.) and foreign ("B'Mag", "Technikart") magazines and newspapers.
Olga Nosova (Russia)
Olga Nosova is a drummer, vocalist and sound artist from Russia, participating in various experimental, electronic and avantgarde projects, most notably – avantgarde/noise-punk band Motherfathers, and duo-project with Alexei Borisov (both as Borisov/Nosova and ASTMA).
Nelson Hiu (Hong Kong)
Nelson Hiu is a Hong Kong-based musician of Chinese and Japanese descent, born and raised in Honolulu, Hawaii.
Hiu studied ethno-musicology at the University of Hawaii and moved to Hong Kong in 1985. Nelson has been a founding member of many new music ensembles in Hawaii and Hong Kong, including Nuclear Tan, the Pagan Babies, Gain Dangerous Visions, the Pet Project Hawaii, Uncarved Block, CIMG (Collective Improvisational Music Group), Little Red Truck, Dancing Stone and Yihk, and has collaborated extensively with dance and theatre. His music for dance has been performed in Hawaii, Arizona, San Francisco, Los Angeles, Seattle, Utah, New York City, Japan, Hong Kong, Taiwan and China.
Patrick Donzé (Switzerland)
www.dolmen.ch
Patrick Donze was born in Switzerland. He lives and works in Hong Kong since 2005. Beside his main activity in the financial industry, he started playing electronic music and developed a passion for sound design. In 1999, he joined the collective "Dolmen Associates", a personalized and independently minded service for all aspects related to contemporary art and music management, as financial Director and also played with international avant-garde musicians.
For 6 years, the collective organized several performances of avant-garde music and contemporary visual art in symbolic spaces such as a former state penitentiary, an underground lake or dam galleries.
Wong Chung-fai (Hong Kong)
sin-ned.blogspot.com
Also know as Sin:Ned, an idiosyncratic improviser, sonic junkie, live-visualist, micro-curator and free-lance writer from Hong Kong. Co-founder of the experimental imprint Re-Records and member of the electro-acoustic duo No One Pulse.
Being a veteran writer of the legendary Hong Kong alternative music magazine MCB (Music Colony B-Weekly), his writings had influenced a wide spectrum of experimental musicians and listeners. While not writing as a pseudo-music critic elaborating his esoteric worldview, in the same idiosyncratic fashion, he spends much of his time hacking and sculpting sonic materials with his laptop and various non-standard electronic gears. With his on-going experimentation embracing improvisation, noise, errors, chaos and randomness, he has been re-visioning an unorthodox sound-making process expressed in extreme dichotomies, and driven by intuition and direct experience.
He had offered performance and creative work for concert, sound installation, workshop, audio-visual and theatrical performance. He had taken part and performed in events such as HK Sound and Vision Festival (2003), Get It Louder (2007), Hong Kong & Shenzhen Biennale of Urbanism/Architecture (2007, 2009), Architecture is Art Festival (2009), Notch Festival Guangzhou Station (2009), MILK+ (2010), and Whisper Music Festival (2010).
ABOUT RE-RECORDS & NOISE TO SIGNAL
Re-Records is a record label initiated by experimental / electro-acoustic duo No One Pulse from Hong Kong. With Re, we don't solely aim to be an outlet for releasing self-initiated or other affiliated projects, but also for artists and releases we deem interesting.
Noise to Signal is a performance series for improvised noise and experimental music within the context of performing art.
Artists who had performed in our concert series:
… (CH), iii (HK), 23N! (JP), After Doom (HK), ahshun aka bjornho (HK), Alexei Borisov (RU), Alfred 23 Harth (DE), Alok (HK), ASTMA (RU), Black Zenith (SG), Brian O'Reilly (SG), Caligine (IT), Christiaan Virant (FM3), Circuitrip (SG), Claudio Rocchetti (IT), Composers Union of New Tunes (HK), Da Xiao (CN), Dickson Dee (HK), dj sniff (NL), DJ Urine (FR), Diode (HK), e:ch (MO), Everdark (HK), Fritz Welch (UK), Fumiko Ikeda (JP), Go Koyashiki (JP), Gregory Buttner (DE), Heroses (HK), High Wolf (FR), James Fei (US), Joao Vasco Paiva (HK), Jun-Y CIAO (CN), Kazuhisa Uchihashi (JP), Klaus Janek (IT), KLC_NIR (CN), KWC (HK), Laurent Valdès (CH), Li YangYang (CN), Li Zenghui (CN), Lin Zhiying (CN), Margie Tong (HK), Mei ZhiYong (CN), Meta Fog (HK), Naturalismo (IT), Nerve (HK), No One Pulse (HK), Oetzi.P (HK), Olaf Hochherz (DE), Olga Nosova (RU), Patrick Donze (CH), Purple Pilgrims (NZ), Ricardo da Silva (CH), Richard Francis (NZ), Shelf-Index (HK), Sherman (HK), shotahirama (JP), Sin:Ned (HK), Syndrome WPW (CH), Taishi Kamiya (JP), Tetragrammaton (JP), The Invisible Frog and Time Machine aka Ronez (CN), Toshikazu Goto (JP), ::vtol:: (RU), Wilmer Ongsitco Chan (HK), Wilson Tsang (HK), Yan Jun (CN), Yang Xiu (CN), Yukitomo Hamasaki (JP), Zbigniew Karkowski (PL), ZenLu (CN)…
Please join our group on Facebook: www.facebook.com/groups/rerec