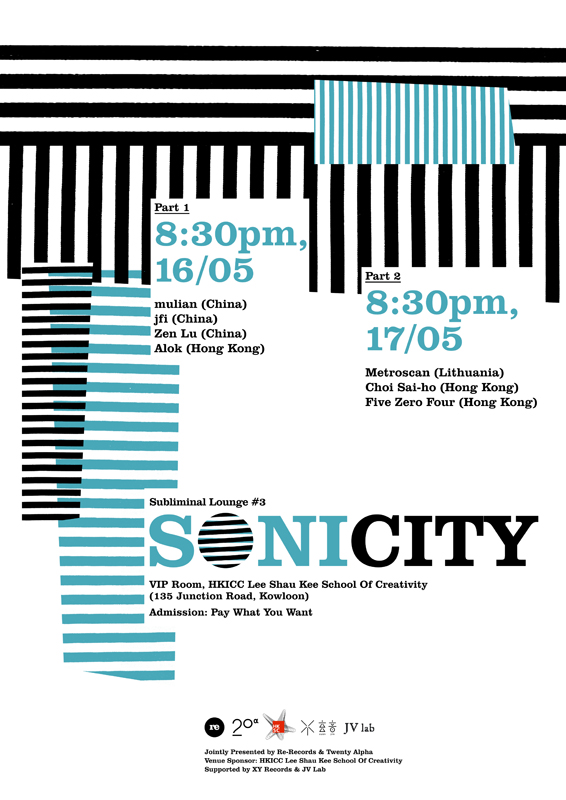 Subliminal Lounge #3
Sonicity
Part 1: 8:30pm, 16 May, 2015
mulian (China)
jfi (China)
ZenLu (China)
Alok (Hong Kong)
Part 2: 8:30pm, 17 May, 2015
Metroscan (Lithuania)
Choi Sai-ho (Hong Kong)
Five Zero Four (Hong Kong)
VIP ROOM, HKICC LEE SHAU KEE SCHOOL OF CREATIVITY
NO.135, JUNCTION ROAD, KOWLOON, HONG KONG
Admission: Pay What You Want
Jointly presented by Re-Records and Twenty Alpha
Venue Sponsored by HKICC Lee Shau Kee School Of Creativity
Program & Ticketing enquiries
rerecordshk@gmail.com
Press Inquiries
+852 2139 5230 / info@twentyalpha.org
About The Performance
SUBLIMINAL LOUNGE is an audio-visual performance series initiated by Re-Records & Twenty Alpha to interactively explore and recreate the connection between moving images and sound.
SONICITY is a two parts series of electronic presentation that explores the depth of our cities with sound and moving images.
Part 1 is the Hong Kong Stop of XY Records' South China tour for their compilation "XY#001", featuring audio-visual performance by some of the finest Chinese abstract electronic artists.
Part 2 features electronic group Metroscan from Lithuania with their signature audio-visual performance, and our own electronic wizard Choi Sai-ho.
About Subliminal Lounge
Subliminal Lounge is a new series of movie screening and live performance event initiated by Re-Records & Twenty Alpha. Our aspiration is to create an interactive space to look into movie, moving image and live music in a new perspective.