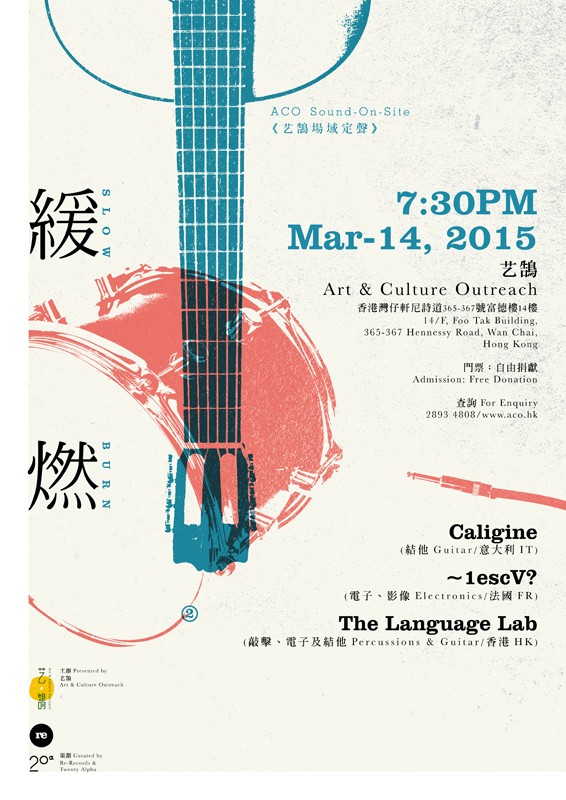 ACO Sound-On-Site
Slow Burn 02
7:30pm, 14 March, 2015
Caligine (Guitar/IT)
~1escV? (Electronics/FR)
The Language Lab (Percussions & Guitar/HK)
ACO (Art & Culture Outreach)
14/F, Foo Tak Building, 365-367 Hennessy Road, Wan Chai, Hong Kong
Admission: Free Donation
Presented by Art & Culture Outreach
Curated by Twenty Alpha & Re-Records
Programme & Ticketing Enquiries
rerecordshk@gmail.com
Press Inquiries
+852 2139 5230 / info@twentyalpha.org
ABOUT THE Performance
Italian noise musician/idiosyncratic singer-song writer Caligine will be collaborating with French electronic audio/visual artist ~1escV? for the 2nd installment of our Slow Burn series. Wandering between composition and improvisation, audio texture and visual dreaming, they will bring us some electro/acoustic folk tunes with an experimental touch. Sweet ear candies with long lasting after taste. With additional spice up from The Language Lab.
Slow Burn is a series of mini live session for explorative sound and music performance in an intimate format under the new ACO Sound-On-Site program. Every time we will invite different innovative artists and musicians to collaborate on creating some challenging but interesting music.
About ACO Sound-On-Site
Sound-On-Site is a site specific program presented by ACO (Art & Culture Outreach) in collaboration with Twenty Alpha and Re-Records. With Sound-On-Site, we aim to develop an intimate and meaningful dialogue between the specific space, the artists and the audiences, and at the same time, create an inspiring art enjoyment experience for the audiences.