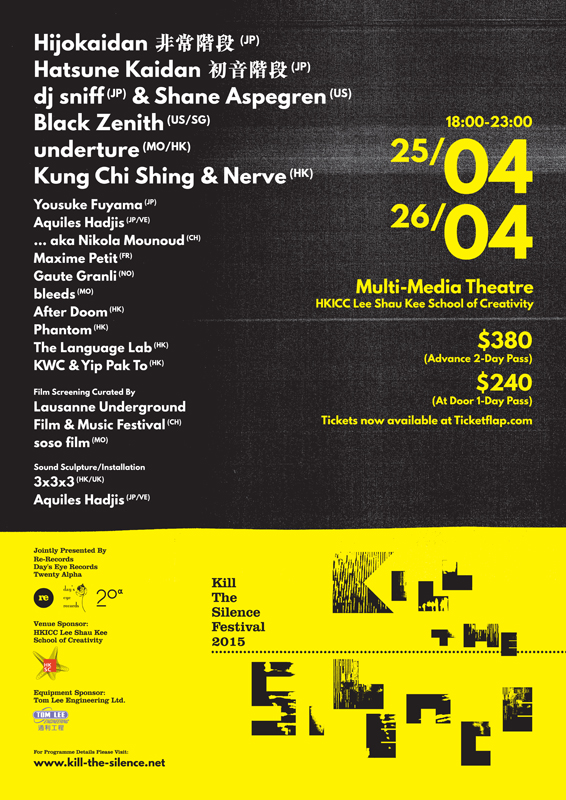 Kill The Silence Festival 2015


6-11pm, 25 & 26 April, 2015
Multi-Media Theatre, HKICC LEE SHAU KEE SCHOOL OF CREATIVITY
NO.135, JUNCTION ROAD, KOWLOON, HONG KONG
Admission: Advance 2 Days Pass (on/before Apr-24): HK$380
At Door Single Day Pass: HK$240
Buy Tickets at Ticketflap
www.kill-the-silence.net
Live Performance
Hijokaidan 非常階段 (JP)
Hatsune Kaidan 初音階段 (JP)
dj sniff (JP) & Shane Aspegren (US)
Black Zenith (US/SG)
underture (MO/HK)
Kung Chi Shing & Nerve (HK)
Yousuke Fuyama (JP)
Aquiles Hadjis (VE/JP)
… aka Nikola Mounoud (CH)
Maxime Petit (FR)
Gaute Granli (NO)
bleeds (MO)
After Doom (HK)
Phantom (HK)
The Language Lab (HK)
KWC & Yip Pak To (HK)
Film Screening Curated By
Lausanne Underground Film & Music Festival (CH)
soso film (MO)
Sound Sculpture/Installation
3x3x3 (HK/UK)
Aquiles Hadjis (JP/VE)
Jointly presented by Re-Records, Day's Eye Records & Twenty Alpha
Venue Sponsor: HKICC Lee Shau Kee School of Creativity
Equipment Sponsor: Tom Lee Engineering Ltd.
Programme & Ticketing Enquiries
rerecordshk@gmail.com
Press Inquiries
+852 2139 5230 / info@twentyalpha.org
ABOUT THE Festival
!silenceisnotanoption!
This is the 3rd edition of Kill The Silence Festival.
This year, we are taking the festival on tour.
And we will start with a 2 days mega kick-off in Hong Kong with live performance, short films screening and installation, headlined by the Japanese noise legend Hijokaidan (非常階段), and their idol killer project Hatsune Kaidan (初音階段).