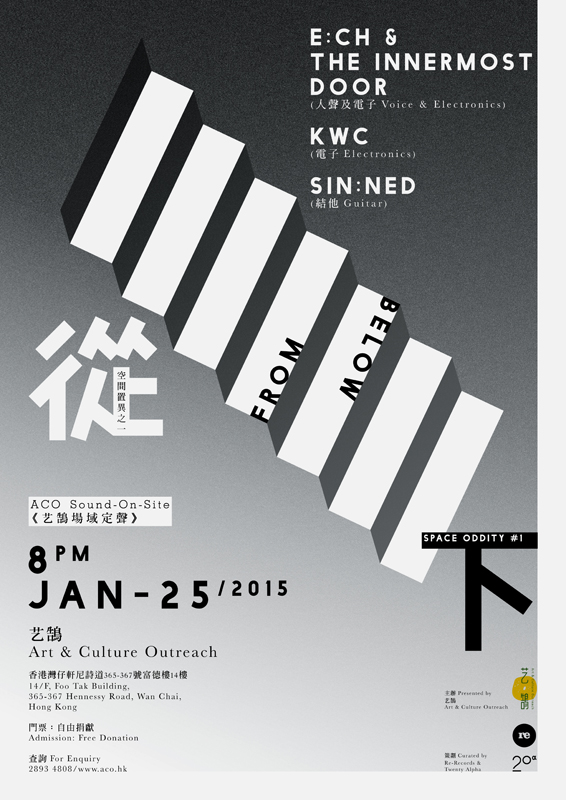 ACO Sound-On-Site
Space Oddity #1: From Below
8pm, 25 Jan, 2015
e:ch & the innermost door
(Voice & Electronics/MO & HK)
KWC (Electronics/HK)
Sin:Ned (Guitar/HK)
Staircase, ACO (Art & Culture Outreach)
14/F, Foo Tak Building, 365-367 Hennessy Road, Wan Chai, Hong Kong
Admission: Free Donation
Presented by Art & Culture Outreach
Curated by Twenty Alpha & Re-Records
Programme & Ticketing Enquiries
rerecordshk@gmail.com
Press Inquiries
+852 2139 5230 / info@twentyalpha.org
About The Performance
Staircase exists on the edge of our memory, somewhere between subconscious and unconscious. Silently, it stays at the back, awaiting the forgotten. With a gesture pointing towards the underworld, it connects different spaces and floors of the building. It is the cradle of dream. Archetypal psychological analysis of space begins here…
Space Oddity is a series of space exploration session under the new ACO Sound-On-Site program. It is an alchemical lab to explore and develop a dialogue with the specific space in an unconventional manner.
About ACO Sound-On-Site
Sound-On-Site is a site specific program presented by ACO (Art & Culture Outreach) in collaboration with Twenty Alpha and Re-Records. With Sound-On-Site, we aim to develop an intimate and meaningful dialogue between the specific space, the artists and the audiences, and at the same time, create an inspiring art enjoyment experience for the audiences.