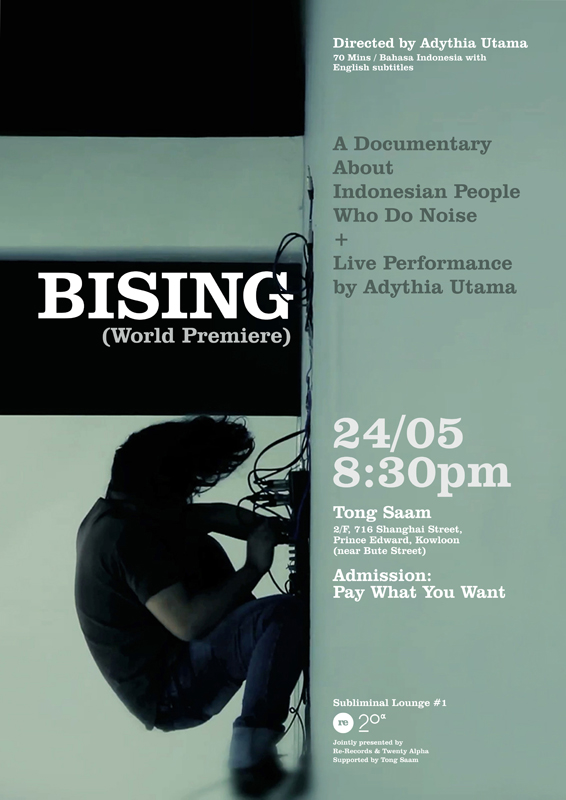 Bising (World Premiere)
Live Performance by Adythia Utama
8:30pm, 24 May, 2014
A documentary about Indonesian people who do noise.


Directed by Adythia Utama (Indonesia)
70 Mins/Bahasa Indonesia (English subtitles)
Tong Saam
2/F, 716 Shanghai Street, Prince Edward, Kowloon (near Bute Street)
Admission: Pay What You Want
Jointly presented by Re-Records and Twenty Alpha
Supported by Tong Saam
Program & Ticketing enquiries
rerecordshk@gmail.com
Press Inquiries
+852 2139 5230 / info@twentyalpha.org
BISING is a documentary by Adythia Utama about people who make noise music in Indonesia. Indonesian music scene is very alive since 90′s, excluding noise, and the majority of people do not know that there is also noise scene in Indonesia. In 2006, some people started taking attention when Danif from Kalimayat showed up in Indonesian music forum with his harsh noise style. The following is a list of the Indonesian noise artists who have appeared in the movie: Aneka Digital Safari, Sodadosa, Argot, Kalimayat, The Crowded Room, Sangsaka Worship, Shoah, terror/incognita, Duto Hardono (Hasana Press) and A Stone A.
About The Artist
Adythia Utama
Adythia Utama was born in Ottawa at 10th December 1986. He graduated in 2010 with Bachelor of Art Degree from Jakarta Institute of the Arts Concentrating in Documentary Film Directing. He has worked as a Videographer at O Channel TV Station in 2008 and as a journalist/feature documentary at SCTV News Program in 2009. He also has worked at some big screen movies such as "Generasi Biru (2009)", "Mama Cake (2012)", and "Rayya, Cahaya Di Atas Cahaya (2012)". Also served as the head of documentation of the idol group JKT48 during 2011-early 2014. Utama lives and works as a freelancer in Indonesia.
About Subliminal Lounge
Subliminal Lounge is a new series of movie screening and live performance event initiated by Re-Records & Twenty Alpha. Our aspiration is to create an interactive space to look into movie, moving image and live music in a new perspective.