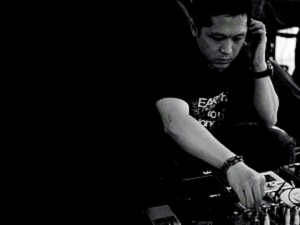 Sin:Ned (Wong Chung-fai)
Improviser, experimentalist and noise practitioner from Hong Kong. Advocator of sonic mysticism for freedom against the system in chaos and errors. Co-founder of Re-Records (www.re-records.com) and advisor of soundpocket (www.soundpocket.org.hk). Founding member of No One Pulse and After Doom. Currently running the live performance series NOISE to SIGNAL.
Being a veteran writer of the legendary Hong Kong alternative music magazine MCB (Music Colony Bi-Weekly), his writings had influenced a wide spectrum of experimental musicians and listeners in Hong Kong and China. As a sound improviser, he has offered performance and creative work for concert, sound installation, workshop, audio-visual and theatrical performance. He had taken part and performed in HK Sound and Vision Festival (2003), Get It Louder (2007), Hong Kong & Shenzhen Biennale of Urbanism/Architecture (2007, 2009), Architecture is Art Festival (2009), Notch Festival 2009 Guangzhou Station (2009), Against 2012: Fukuoka Extreme Music Festival (2012), New Vision Arts Festival (2012), Miji Festival (2013)…etc, and collaborated with artists such as Zbigniew Karkowski, Otomo Yoshihide, Kazuhisa Uchihashi, Alfred 23 Harth, Yan Jun, Torturing Nurse, dj sniff , and Dickson Dee…etc.
Discography
Solo
Wong Chung-fai – ISW (GIN, 2009)
Sin:Ned – Dark Side of the Chord VII (Re-Records, 2009)
Sin:Ned – 60 Seconds: A Schizophrenic Manual for Eternity (Lona Records, 2006)
Sin:Ned – Uroborus: A Study On No-Input Device (Lona Records, 2006)
Collaborations
Yan Jun/Wong Chung-fai – M (Re-Records, 2011)
Sin:Ned/Minoo – Chop Vol 3: Improvision (We Play! Records, 2008)
Sin:Ned/Nerve – Ghost Feeding Vessel (Lona Records, 2008)
No One Pulse
No One Pulse – E (Re-Records, 2009)
No One Pulse – LINGK (Lona Records, 2008)
No One Pulse – Pathic (Little Sound, 2007)
No One Pulse – Tele (Lona Records, 2007)
After Doom
After Doom – Live at Noise to Signal 0.09: +N2G (Red Venice, 2013)
Compilations
Various Artists – The End of Logos: Torturing Nurse/Sin:Ned/Nojiji (Fuzztape, 2012)
Various Artists – An Anthology of Chinese Electronic Music (Sub Rosa, 2009)
Various Artists – Red (Lona Records, 2009)
Various Artists – Chainsia (Niko, 2007)
Various Artists – Chinese New Year 2007 (Little Sound, 2007)
Alok – 29 Minutes from the End (Lona Records, 2005)
Various Artists – MCB 200 (MCB/aUTOBaHN, 2002)
Various Artists – Mondisk (Monitor Records, 2002)
Various Artists – Music for Your Beautiful Boy (MCB, 2001)
Selected Shows
2013
05/2013: Noise To Signal 0.16: Black Wolf Nightwalk Nagashi (CIA, Hong Kong)
05/2013: M+ Inflation: Audio Lotus (WKCD, Hong Kong)
05/2013: Noise To Signal 0.15: Density (CIA, Hong Kong)
05/2013: Noise-on-Site: Chapter 2 (LMA, Macao)
05/2013: Noise To Signal 0.14: Noise on Noise (CIA, Hong Kong)
04/2013: Noise To Signal 0.13: Shark without Fin by A23H (CIA, Hong Kong)
04/2013: Noise To Signal 0.KS: ASS/Christiaan Virant/James Fei (CIA, Hong Kong)
03/2013: Kago Shintaro Unsanitary HK Exhibition Opening (CIA, Hong Kong)
03/2013: Noise To Signal 0.11: Taishi Kamiya (CIA, Hong Kong)
03/2013: Noise-on-Site: Chapter 1 (LMA, Macao)
03/2013: Noise To Signal 0.10: Triplet (CIA, Hong Kong)
03/2013: Makoto Kawabata China Tour – Guangzhou (191Space, Guangzhou)
01/2013: Noise To Signal 0.09: +N2G (Hidden Agenda, Hong Kong)
01/2013: Noise-on-Site: Prologue (LMA, Macao)
01/2013: Miji Festival – Fuzhou Station (Xiu Space, Fuzhou)
01/2013: Miji Festival – Xiamen Station (Massbox, Xiamen)
01/2013: Miji Festival – Hangzhou Station (School of Media and International Culture of Zhejiang University, Hangzhou)
01/2013: Miji Festival – Shanghai Station (Rockbund Art Museum, Shanghai)
01/2013: Miji Festival – Beijing Station (2Kolegas Bar, Beijing)
2012
11/2012: People's Fringe Festival: Experimental Music Concert presented by Kung Music Workshop (Hidden Agenda, Hong Kong)
11/2012: CHOP FESTIVAL: Polish Experimental Music in China (Strategic Sounds, Hong Kong) 
11/2012: Exhibition: Soundtracking #John Cage 4'33" (K11 Art Mall, Hong Kong)
10/2012: Noise To Signal 0.08: Lost in Transmission (Strategic Sounds, Hong Kong)
10/2012: WIKITOPIA – Soundtracking# John Cage 4'33" (Videotage, Hong Kong)
10/2012: Noise To Signal 0.07: Black Zenith (Strategic Sounds, Hong Kong)
10/2012: High Wolf Live in HK (Strategic Sounds, Hong Kong)
10/2012: Noise To Signal 0.06: Struggle for More Freedom (Strategic Sounds, Hong Kong)
09/2012: Noise To Signal 0.05 (Strategic Sounds, Hong Kong)
09/2012: The End of Logos (Soup, Toykyo, Japan)
09/2012: D/G/Sp (Earthdom, Tokyo, Japan)
09/2012: Lecture & Performance (Musashino Art University, Tokyo, Japan)
09/2012: Extreme Music from China (Uplink Factory, Tokyo, Japan)
09/2012: TORTURING NURSE/NOJIJI/SIN:NED JAPAN TOUR (Bears, Namba, Japan)
09/2012: Against 2012: Extreme Music Festival (Graf, Fukuoka, Japan)
08/2012: TORTURING NURSE / NOJIJI / SIN:NED JAPAN TOUR (At Hall, Oita, Japan)
08/2012: Hellhot Festival Closing Party (Southsite, Hong Kong)
08/2012: Noise To Signal 0.04 (Strategic Sounds, Hong Kong)
05/2012: Electroxacoustic (Strategic Sounds, Hong Kong)
05/2012: FROM DUSK TIL DAWN (Videotage, Hong Kong)
05/2012: On the Way – Visual Talking (1506 Art Gallery, Foshan)
04/2012: Noise To Signal 0.03: Kazuhisa Uchihashi Live (Strategic Sounds, Hong Kong)
04/2012: AV Riot 02: Absolute Territory (Strategic Sounds, Hong Kong)
03/2012: AV Riot 01: Children of the Corn (Strategic Sounds, Hong Kong)
03/2012: Noise To Signal 0.02: 5IVElements (Hidden Agenda, Hong Kong) 
02/2012: Noise To Signal 0.01: ASTMA Live (Strategic Sounds, Hong Kong)
01/2012: LiFeast: Zen Ensemble II (Osage Soho, Hong Kong)
01/2012: LiFeast: Traces of Entanglement (Osage Soho, Hong Kong)
01/2012: Kawabata Makoto + DJ Urine Asia Tour 2012 (gallery EXIT, Hong Kong)
01/2012: Medium III: Return of the Turntablist Feat. dj sniff (Osage Atelier, Hong Kong)
2011
12/2011: M ~ Yan Jun。Wong Chung-fai。Li Zenghui (Hidden Agenda, Hong Kong)
12/2011: Sad Vacation World Tour-HK Stop (Osage Atelier, Hong Kong)
11/2011: Medium II: Intercepting Sounds & Objects feat. Gregory Buttner (Osage Atelier, Hong Kong)
08/2011: Inter-Session (Osage Soho, Hong Kong)
08/2011: Nojiji Tour 2011: Three of the Noise (Hidden Agenda, Hong Kong)
06/2011: SOUND SA: Karkowski/O'Reilly/Sin:Ned (Shenzhen/Guangzhou/Foshan/Qulin/Changsha/Hong Kong)
05/2011: Medium: Interacting Sights, Sounds & Senses (Osage Atelier, Hong Kong)
03/2011: Hidden Live Music Fest (Hidden Agenda, Hong Kong)
01/2011: Sound in the Park 2011 (Kowloon Park, Hong Kong)
2010
12/2010: Sound Friction No 2: Zen Ensemble (Videotage, Hong Kong)
12/2010: SECRETS FROM ABOVE (soundpocket, Hong Kong)
11/2010: Neo Sound Issue 15: Bent Orchestra (Liancha Shop, Shenzhen)
11/2010: Sound Friction No 1: Bent Orchestra (Videotage, Hong Kong)
10/2010: Whisper Music Festival (DaMeiSha Beach Park, Shenzhen) 
09/2010: HKNME Fruit and Vegetable Orchestra (K-11, Hong Kong)
09/2010: Wikitopia Audiovisual Mash-up Party (Videotage, Hong Kong)
07/2010: Listening Room 6 – Seeing the Sound (Osage Soho, Hong Kong) 
04/2010: Playing Classical @ Neo Sound #8 (Liancha Shop, Shenzhen)
04/2010: Switched On Mini Festival (Osage Soho, Hong Kong)
03/2010: MILK+ (Videotage, Hong Kong)
03/2010: Rebuilding Haiti (Sigma Space, Hong Kong)
01/2010: Listening Room 1 (Osage Soho, Hong Kong)
01/2010: Sound in the Park Round 3 (Shatin Park, Hong Kong)
01/2010: Sound in the Park Round 4 (Kowloon Park, Hong Kong)
2009
12/2009: 2009 Hong Kong & Shenzhen Bi-city Biennale of Urbanism/Architecture (West Kowloon Waterfront Promenade, Hong Kong)
11/2009: Microwave – HKCC 20th Anniversary Fun Day Music Viva (Cultural Centre, Hong Kong)
10/2009: Notch Festival 2009 (Sapphire Art Space, Guangzhou)
10/2009: Zbigniew Karkowski + Dickson Dee Live in HK (Videotage, Hong Kong)
10/2009: Architecture is…Discourse with Music (Cultural Centre, Hong Kong)
08/2009: Waterland Kwunyin 160: INTER-FACE (2 Kolegas Bar, Beijing)
07/2009: Parallel Audiosphere – on different approaches to music & sound creation: Sonic Alchemy – Releasing unusual sounds from usual objects (Hong Kong Cultural Centre, Hong Kong)
06/2009: ChoP: WEF on Tour in China (Liancha Shop, Shenzhen)
06/2009: ChoP: WEF on Tour in China (Videotage, Hong Kong)
05/2009: RED_shift (Liancha Shop, Shenzhen)
04/2009: Red (Phonograph, Hong Kong)
2008
12/2008: Everybody Sounds (Backstage, Hong Kong)
10/2008: Blind Man & the Sun (He Xiangning Museum, Shenzhen)
09/2008: Marc Behrens Concert in Hong Kong (Videotage, Hong Kong)
07/2008: The Last Night: A SZ-HK Experimental Performance (c:union, Shenzhen)
03/2008: Cattle Depot in March: Arts & Community Online – Sound Performance (1a Space, Hong Kong)
02/2008: We Play White Noise: Chop Vol 2 Release Concert (Videotage, Hong Kong)
02/2008: Hong Kong & Shenzhen Bi-city Biennale of Urbanism / Architecture – G-Imgineering along Desire Lines: Central Subconsciousness (Central Police Station Compound, Hong Kong)
01/2008: ENIMINIMINIMOS: Artists Who Makes Things Small (Studio Bibliotheque, Hong Kong)
2007
12/2007: Shenzhen & Hong Kong Bi-city Biennale of Urbanism / Architecture – Sonic Architecture (OCT Lofts, Shenzhen)
08/2007: The Diplomat Project: Ritual for the Ghosts (Para/Site, Hong Kong)
07/2007: The Diplomat Project: Dialogue with the Ghosts (Embassy Projects, Hong Kong)
06/2007: Get It Louder – Moving Soundscape & Home Show (Guangzhou)
03/2007: DBG + Get It Louder – 18 Monsters (DBG, Guangzhou)
03/2007: We Play Neo Sound! (OCT Lofts, Shenzhen)
03/2007: Listen Up: When the Plug is On (LOG-ON, Hong Kong)
01/2007: Take Off the Headphone and Turn to 10 (Videotage, Hong Kong)
2006
10/2006: Electronic Odyssey (Baptist University, Hong Kong)
2003
10/2003: Sound & Vision Festival: Media Jam (1a Space, Hong Kong)
Talk/Lecture/Workshop
2013
01/2013: Music for Listening @ Miji Festival (Massbox, Xiamen)
01/2013: Deleuze and Sound @ Miji Festival (School of Media and International Culture of Zhejiang University, Hangzhou)
2012
09/2012: Lecture & Performance (Musashino Art University, Tokyo, Japan)
05/2012: On the Way – Visual Talking (1506 Art Gallery, Foshan)
02/2012: Digital Hug Pre-performance Talk (Macau Cultural Centre, Macau)
2011
01/2011: MAD: If u think u r wrong, u r almost right!! (Kwai Tsing Theatre, Hong Kong)
2010
10/2010: BIG BIG RICE: Visual | Sound | Installation Art Exhibition (Nanhai Culture Centre, Foshan)
07/2010: 718 World Listening Day – Let's Listen (Part-of Studio Shop, Hong Kong)
05/2010: Alchemical SoundLab (Nanhai Cultural Centre / Ninliho, Foshan)
2009
10/2009: Architecture is…Discourse with Music – Student Program (Cultural Centre, Hong Kong)
07/2009: Parallel Audiosphere – on different approaches to music & sound creation: Sonic Alchemy – Releasing unusual sounds from usual objects (Hong Kong Cultural Centre, Hong Kong)