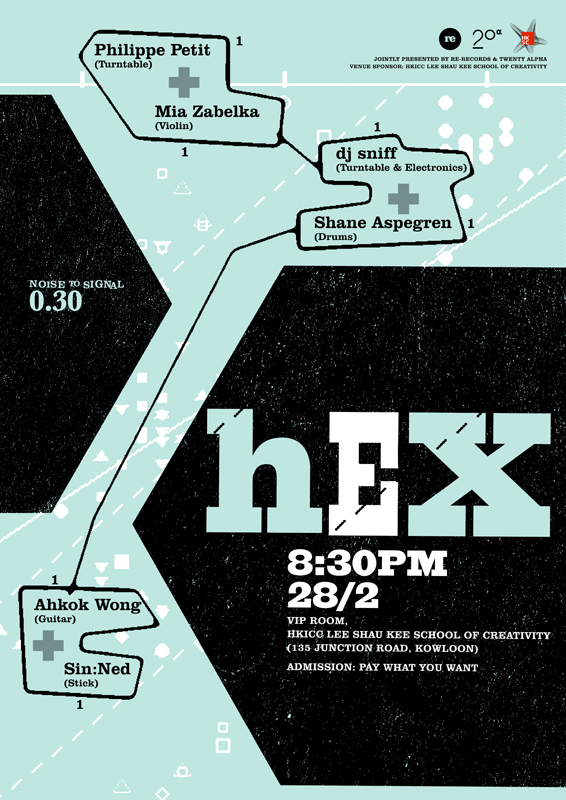 Noise To Signal 0.30
HEX
8:30pm, 28 February, 2015
Philippe Petit (Turntable) + Mia Zabelka (Violin)
dj sniff (Turntable & electronics) +
Shane Aspegren (Drums)
Ahkok Wong (Guitar) + Sin:Ned (Stick)
VIP Room, HKICC LEE SHAU KEE SCHOOL OF CREATIVITY
NO.135, JUNCTION ROAD, KOWLOON, HONG KONG
Admission: Pay What You Want
Jointly Presented by Re-Records & Twenty Alpha
Venue Sponsored by HKICC Lee Shau Kee School Of Creativity
Programme & Ticketing Enquiries
rerecordshk@gmail.com
Press Inquiries
+852 2139 5230 / info@twentyalpha.org
ABOUT THE Performance
2 x 3 units of improvising duet for turntables, violin, drums, guitar, stick and electronics, featuring Philippe Petit, Mia Zabelka, dj sniff, Shane Aspegren, Ahkok Wong and Sin:Ned. Free but not noise free.
ABOUT RE-RECORDS & NOISE TO SIGNAL
Re-Records is a record label initiated by experimental / electro-acoustic duo No One Pulse from Hong Kong. With Re, we don't solely aim to be an outlet for releasing self-initiated or other affiliated projects, but also for artists and releases we deem interesting.
Noise to Signal is a performance series for improvised noise and experimental music within the context of performing art.
Artists who had performed in our concert series:
… (CH), iii (HK), 23N! (JP), After Doom (HK), ahshun aka bjornho (HK), Alexei Borisov (RU), Alfred 23 Harth (DE), Alok (HK), ASTMA (RU), Black Zenith (SG), Brian O'Reilly (SG), Caligine (IT), Christiaan Virant (FM3), Circuitrip (SG), Claudio Rocchetti (IT), Composers Union of New Tunes (HK), Da Xiao (CN), Dickson Dee (HK), dj sniff (NL), DJ Urine (FR), Diode (HK), e:ch (MO), Everdark (HK), Fiona Lee (JK), Fritz Welch (UK), Fumiko Ikeda (JP), Go Koyashiki (JP), Gregory Buttner (DE), Heroses (HK), High Wolf (FR), James Fei (US), Joao Vasco Paiva (HK), Jun-Y CIAO (CN), Kazuhisa Uchihashi (JP), Kevin Pang (HK), Klaus Janek (IT), KLC_NIR (CN), KWC (HK), Laurent Valdès (CH), Li YangYang (CN), Li Zenghui (CN), Lin Zhiying (CN), Margie Tong (HK), Mei ZhiYong (CN), Meta Fog (HK), Naturalismo (IT), Nerve (HK), No One Pulse (HK), Oetzi.P (HK), Olaf Hochherz (DE), Olga Nosova (RU), Patrick Donze (CH), Purple Pilgrims (NZ), Ricardo da Silva (CH), Richard Francis (NZ), Shelf-Index (HK), Sherman (HK), shotahirama (JP), Sin:Ned (HK), Syndrome WPW (CH), Taishi Kamiya (JP), Tetragrammaton (JP), The Invisible Frog and Time Machine aka Ronez (CN), Toshikazu Goto (JP), ::vtol:: (RU), Wilmer Ongsitco Chan (HK), Wilson Tsang (HK), Yan Jun (CN), Yang Xiu (CN), Yellow Crystal (HK), Yukitomo Hamasaki (JP), Zbigniew Karkowski (PL), ZenLu (CN), ZHANG You-Sheng (TW)…
Please join our group on Facebook: www.facebook.com/groups/rerec