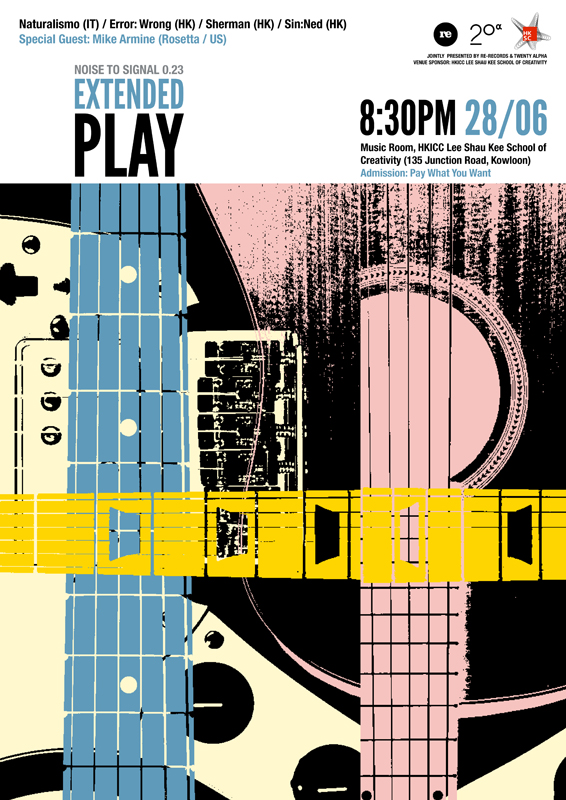 Noise To Signal 0.23
Extended Play
8:30pm, 28 June, 2014
Naturalismo (IT)
Error: Wrong (HK)
Sherman (HK)
Sin:Ned (HK)
Special Guest: Mike Armine (Rosetta/US)
MUSIC ROOM, HKICC LEE SHAU KEE SCHOOL OF CREATIVITY
NO.135, JUNCTION ROAD, KOWLOON, HONG KONG
Admission: Pay What You Want
Jointly Presented by Re-Records & Twenty Alpha
Venue Sponsored by HKICC Lee Shau Kee School Of Creativity
Programme & Ticketing Enquiries
rerecordshk@gmail.com
Press Inquiries
+852 2139 5230 / info@twentyalpha.org
4 guitars + 4 electrified souls…a freeform improvising guitar quartet featuring four of the most unconventional guitar players in Hong Kong. Extended Play is their debut performance in celebration of their 1st EP and upcoming album. Be prepared to change the way you think about guitar works…what's more? Mike Armine of Rosseta will be performing as special guest!!
ABOUT THE ARTISTS
Naturalismo (IT)
www.monstresparexces.com
It all starts with a microcassette recorder wandering in Rome subway, taping live cut-up bursts of saturated city life. Shifts to harsh noise that struggles to keep a buried layer of melody. Explores minimalism with irony, always loyal to cheapness and imperfection.
Error: Wrong (HK)
www.soundcloud.com/errorwrong/
Error: Wrong is a Hong Kong based guitarist / electronic musician / improvisor. A guitarist and electronic musician who focuses on guitar improvisation and sound manipulation with laptop to fragmentize and alter the instruments' original sound.
Sherman (HK)
www.soundcloud.com/shermanho
Sherman plays electric guitar and effect pedals. His debut solo work "Politely We Grow Old" was released by Lona Records in 2006. He is also founding member of the experimental duo Yellow Crystal.
Sin:Ned (HK)
www.re-records.com/people/sin-ned/
Also known as Dennis Wong / Wong Chung-fai. Experimentalist and improviser. Co-founder of Re-Records, and founding member of experimental outfits such as No One Pulse, After Doom and adeō.
Mike Armine (Rosetta/US)
www.rosettaband.com
Mike Armine is a dark ambient, drone and noise musician from Philadelphia, United States. He has also known by membership and musical action as vocalist and sound manipulator of acts as Rosetta, Rise of Because, Zodiak and Temet Nosce.
ABOUT RE-RECORDS & NOISE TO SIGNAL
Re-Records is a record label initiated by experimental / electro-acoustic duo No One Pulse from Hong Kong. With Re, we don't solely aim to be an outlet for releasing self-initiated or other affiliated projects, but also for artists and releases we deem interesting.
Noise to Signal is a performance series for improvised noise and experimental music within the context of performing art.
Artists who had performed in our concert series:
… (CH), iii (HK), 23N! (JP), After Doom (HK), ahshun aka bjornho (HK), Alexei Borisov (RU), Alfred 23 Harth (DE), Alok (HK), ASTMA (RU), Black Zenith (SG), Brian O'Reilly (SG), Caligine (IT), Christiaan Virant (FM3), Circuitrip (SG), Claudio Rocchetti (IT), Composers Union of New Tunes (HK), Da Xiao (CN), Dickson Dee (HK), dj sniff (NL), DJ Urine (FR), Diode (HK), e:ch (MO), Everdark (HK), Fiona Lee (JK), Fritz Welch (UK), Fumiko Ikeda (JP), Go Koyashiki (JP), Gregory Buttner (DE), Heroses (HK), High Wolf (FR), James Fei (US), Joao Vasco Paiva (HK), Jun-Y CIAO (CN), Kazuhisa Uchihashi (JP), Kevin Pang (HK), Klaus Janek (IT), KLC_NIR (CN), KWC (HK), Laurent Valdès (CH), Li YangYang (CN), Li Zenghui (CN), Lin Zhiying (CN), Margie Tong (HK), Mei ZhiYong (CN), Meta Fog (HK), Naturalismo (IT), Nerve (HK), No One Pulse (HK), Oetzi.P (HK), Olaf Hochherz (DE), Olga Nosova (RU), Patrick Donze (CH), Purple Pilgrims (NZ), Ricardo da Silva (CH), Richard Francis (NZ), Shelf-Index (HK), Sherman (HK), shotahirama (JP), Sin:Ned (HK), Syndrome WPW (CH), Taishi Kamiya (JP), Tetragrammaton (JP), The Invisible Frog and Time Machine aka Ronez (CN), Toshikazu Goto (JP), ::vtol:: (RU), Wilmer Ongsitco Chan (HK), Wilson Tsang (HK), Yan Jun (CN), Yang Xiu (CN), Yellow Crystal (HK), Yukitomo Hamasaki (JP), Zbigniew Karkowski (PL), ZenLu (CN), ZHANG You-Sheng (TW)…
Please join our group on Facebook: www.facebook.com/groups/rerec