Black Zenith (Photo: Adrian Leung)
Noise To Signal 0.07
Black Zenith
8:30pm, 13 October, 2012
Black Zenith (Analogue Synth/Singapore)
Diode (Electronics/Hong Kong)
Sherman + Sin:Ned (Guitar & Electronics/Hong Kong)
Strategic Sounds
Workshop E, 10/F, High Win Factory building, 47 Hoi Yuen Road, Kwun Tong, Kowloon, Hong Kong
觀塘開源道47號凱源工業大廈10樓E室
Admission: HK$120 (At door)
For reservation and enquiries
rerecordshk@gmail.com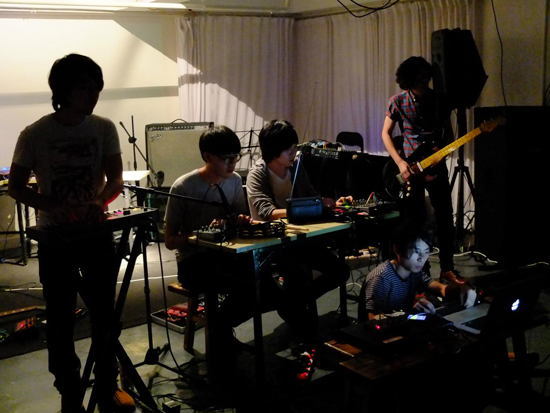 Diode (Photo: Adrian Leung)
ABOUT THE ARTISTS
Black Zenith (Singapore)
black-zenith.tumblr.com/
Black Zenith is Brian O'Reilly & Darren Moore. The duo performs using analog modular synthesizers & moving images. They produce dense sonic textures that generate live visuals through the transformation of audio signals into images. Black Zenith draws as much influence from noise music & the electroacoustic music tradition as they do from the foundations of abstract video art.
Diode (Hong Kong)
The function of a diode is to allow an electric current to pass in one direction (called the diode's forward direction), while blocking current in the opposite direction (the reverse direction). Diode (Fung Tsun Yin Jasper, Lam Kit Hang Frank, Lau Ho Chi, Tsang Ka Wai Eason, Wong Chun Hoi) is a sonic collective of five multi-disciplinarians, with a simple audio hardware connection structure which transfer the sound in one-way-direction.
Sherman + Sin:Ned (Hong Kong)
www.myspace.com/shermanho
sin-ned.blogspot.com/
Sherman plays electric guitar and effect pedals. His debut solo work "Politely We Grow Old" was released by Lona Records in 2006.
Sin:Ned, aka Wong Chung-fai, is an unorthodox sonic evangelist who practices improvisational mysticism. He is the co-founder of Re-Records (www.re-records.com) and No One pulse. Currently also one of the Advisors of soundpocket (www.soundpocket.org.hk).
ABOUT RE-RECORDS & NOISE TO SIGNAL
Re-Records is a record label initiated by experimental / electro-acoustic duo No One Pulse from Hong Kong. With Re, we don't solely aim to be an outlet for releasing self-initiated or other affiliated projects, but also for artists and releases we deem interesting.
Noise to Signal is a performance series for improvised noise and experimental music within the context of performing art.
Artists who had performed in our concert series:
… (CH), iii (HK), 23N! (JP), After Doom (HK), ahshun aka bjornho (HK), Alexei Borisov (RU), Alfred 23 Harth (DE), Alok (HK), ASTMA (RU), Black Zenith (SG), Brian O'Reilly (SG), Caligine (IT), Christiaan Virant (FM3), Circuitrip (SG), Claudio Rocchetti (IT), Composers Union of New Tunes (HK), Da Xiao (CN), Dickson Dee (HK), dj sniff (NL), DJ Urine (FR), Diode (HK), e:ch (MO), Everdark (HK), Fritz Welch (UK), Fumiko Ikeda (JP), Go Koyashiki (JP), Gregory Buttner (DE), Heroses (HK), High Wolf (FR), James Fei (US), Joao Vasco Paiva (HK), Jun-Y CIAO (CN), Kazuhisa Uchihashi (JP), Klaus Janek (IT), KLC_NIR (CN), KWC (HK), Laurent Valdès (CH), Li YangYang (CN), Li Zenghui (CN), Lin Zhiying (CN), Margie Tong (HK), Mei ZhiYong (CN), Meta Fog (HK), Naturalismo (IT), Nerve (HK), No One Pulse (HK), Oetzi.P (HK), Olaf Hochherz (DE), Olga Nosova (RU), Patrick Donze (CH), Purple Pilgrims (NZ), Ricardo da Silva (CH), Richard Francis (NZ), Shelf-Index (HK), Sherman (HK), shotahirama (JP), Sin:Ned (HK), Syndrome WPW (CH), Taishi Kamiya (JP), Tetragrammaton (JP), The Invisible Frog and Time Machine aka Ronez (CN), Toshikazu Goto (JP), ::vtol:: (RU), Wilmer Ongsitco Chan (HK), Wilson Tsang (HK), Yan Jun (CN), Yang Xiu (CN), Yukitomo Hamasaki (JP), Zbigniew Karkowski (PL), ZenLu (CN)…
Please join our group on Facebook: www.facebook.com/groups/rerec