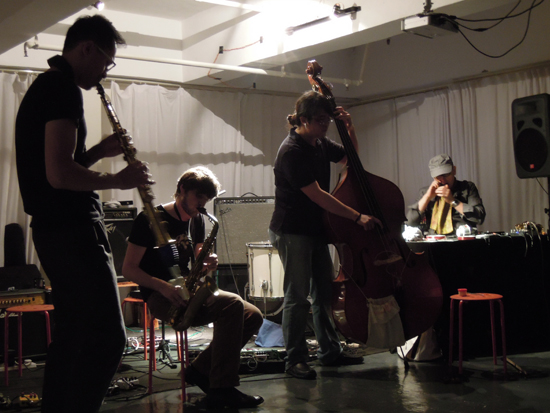 Jun-Y Ciao, Composers Union of New Tunes, Wilmer Ongsitco Chan & Alfred 23 Harth (Photo: Dennis Wong)
Noise To Signal 0.06
Struggle For More Freedom
8:30pm, 9 October, 2012
Alfred 23 Harth (Germany)
Jun-Y CIAO (China)
Wilmer Ongsitco Chan (Hong Kong)
Composers Union of New Tunes + Sin:Ned (Hong Kong)
Strategic Sounds
Workshop E, 10/F, High Win Factory building, 47 Hoi Yuen Road, Kwun Tong, Kowloon, Hong Kong
觀塘開源道47號凱源工業大廈10樓E室
Admission: HK$120 (At door)
For reservation and enquiries
rerecordshk@gmail.com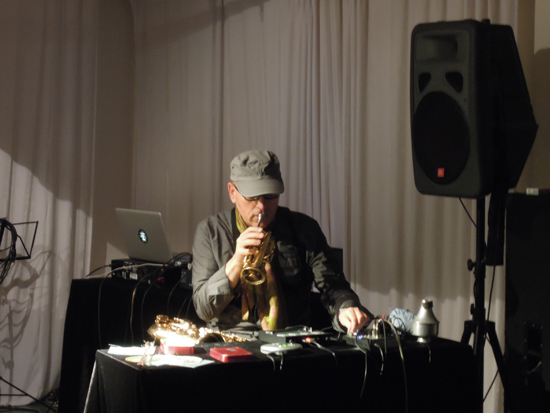 Alfred 23 Harth (Photo: Dennis Wong)
ABOUT THE ARTISTS
Alfred 23 Harth
alfredharth.blogspot.com
Multi-instrumentalist, improviser, composer and visual artist Alfred Harth was born near Frankfurt in 1949. He first recorded at age twenty with the ensemble Just Music, with whom he recorded two LP's, one of which was issued on ECM. Throughout the 1970s he worked with musicians like pianist Nicole Van Den Plas, drummer Sven-Ake Johansson, bassist Peter Kowald, trumpeter Michael Sell and others in West European free music. In the late '70s, he became interested in punk music and in addition to a regularly-working duo with multi-instrumentalist Heiner Goebbels, he worked in punk / progrock / improvisation / modern composition combos like Cassiber and Gestalt et Jive. Since moving to Seoul, South Korea in 2001, he has been involved with Otomo Yoshihide's New Jazz Orchestra and his own multi-media projects.
Jun-Y CIAO
1978 – Born in Shanghai
2005 – Founded the free music group MTDM
2006 – Graduate the study at the Academy of Fine Arts Düsseldorf, Germany
2008 – Graduate the Meister Class at the Academy of Fine Arts in University Mainz, Germany
Since 2009 – Editor for Art World Magazine, Shanghai
2009 – Founded the acoustic-electronic project "Power Wood Quality"
2009 – Founded the artist collective "ZUZHI" with LI Mu, TAO Yi and XU Zhe
2011 – Founded "the Free Music Collective of Shanghai" with YIN Yi
MTDM, it means "horse without legs" literally in Chinese. Two young artists, who commit themselves to a free and spontaneous music, founded this band in 2005 in Düsseldorf. Similar to the Fluxus predecessors' exploration into the cross-border arts, the practice of MTDM can be considered a tribute to the pioneers. MTDM seems to be synonymous with "good-for-nothing". In almost all of the Western films, if the legs break, the horse will be killed by cowboys with no exception. The two members, Jun-Y and TAO Yi, both were born in the year of horse – in 1978. "Horse without legs", the self-mocking name, implies exactly the profound thinking of the two artists on how to walk without legs.
Wilmer Ongsitco Chan
Wilmer Ongsitco Chan (b.1985) has recently completed his Bachelor degree in Music Theory/Composition and Studio Art from Lawrence University, WI. Wilmer's main interest however lies in the spontaneity and freedom in musical improvisations, and wishes to continue perform and help promote such practice in Asia in the future.
Composers Union of New Tunes + Sin:Ned
Composers Union for New Tunes is a lethal free Improvisational duo from Hong Kong formed by Kevin Pan (guitars, vocals) and Callum MacKenzie (sax). Kevin used to play in bands like Heta Uma and Charisma. Callum is currently playing in a wide variety of different jazz groups in Hong Kong.
Sin:Ned, aka Wong Chung-fai, is an unorthodox sonic evangelist who practices improvisational mysticism. He is the co-founder of Re-Records (www.re-records.com) and No One pulse. Currently also one of the Advisors of soundpocket (www.soundpocket.org.hk).
ABOUT RE-RECORDS & NOISE TO SIGNAL
Re-Records is a record label initiated by experimental / electro-acoustic duo No One Pulse from Hong Kong. With Re, we don't solely aim to be an outlet for releasing self-initiated or other affiliated projects, but also for artists and releases we deem interesting.
Noise to Signal is a performance series for improvised noise and experimental music within the context of performing art.
Artists who had performed in our concert series:
… (CH), iii (HK), 23N! (JP), After Doom (HK), ahshun aka bjornho (HK), Alexei Borisov (RU), Alfred 23 Harth (DE), Alok (HK), ASTMA (RU), Black Zenith (SG), Brian O'Reilly (SG), Caligine (IT), Christiaan Virant (FM3), Circuitrip (SG), Claudio Rocchetti (IT), Composers Union of New Tunes (HK), Da Xiao (CN), Dickson Dee (HK), dj sniff (NL), DJ Urine (FR), Diode (HK), e:ch (MO), Everdark (HK), Fritz Welch (UK), Fumiko Ikeda (JP), Go Koyashiki (JP), Gregory Buttner (DE), Heroses (HK), High Wolf (FR), James Fei (US), Joao Vasco Paiva (HK), Jun-Y CIAO (CN), Kazuhisa Uchihashi (JP), Klaus Janek (IT), KLC_NIR (CN), KWC (HK), Laurent Valdès (CH), Li YangYang (CN), Li Zenghui (CN), Lin Zhiying (CN), Margie Tong (HK), Mei ZhiYong (CN), Meta Fog (HK), Naturalismo (IT), Nerve (HK), No One Pulse (HK), Oetzi.P (HK), Olaf Hochherz (DE), Olga Nosova (RU), Patrick Donze (CH), Purple Pilgrims (NZ), Ricardo da Silva (CH), Richard Francis (NZ), Shelf-Index (HK), Sherman (HK), shotahirama (JP), Sin:Ned (HK), Syndrome WPW (CH), Taishi Kamiya (JP), Tetragrammaton (JP), The Invisible Frog and Time Machine aka Ronez (CN), Toshikazu Goto (JP), ::vtol:: (RU), Wilmer Ongsitco Chan (HK), Wilson Tsang (HK), Yan Jun (CN), Yang Xiu (CN), Yukitomo Hamasaki (JP), Zbigniew Karkowski (PL), ZenLu (CN)…
Please join our group on Facebook: www.facebook.com/groups/rerec